BUILDING THE FUTURE TOGETHER
This year marks 50 years of Genie serving aerial markets around the world, growing from two employees in Founder Bud Bushell's garage in 1966 to over 4,500 team members worldwide in 2016. Operating in 80 countries and on six continents, today we are one of the top aerial work platform manufacturers in the world.
Over the last five decades, we've built this industry and defined it with Genie aerials — taking people safely to new heights. From the very beginning, Genie has been working to develop products that solve our customers' worksite challenges, and that process never ends. Our history, our legacy, is about "Building the Future" through industry leadership, customer input and innovation. And, we never stop moving forward, we keep taking our customers and their businesses higher.
For us, 50 years is just the beginning — the best is yet to come!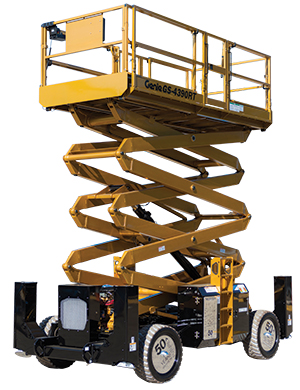 50-Years V8 Scissor Lift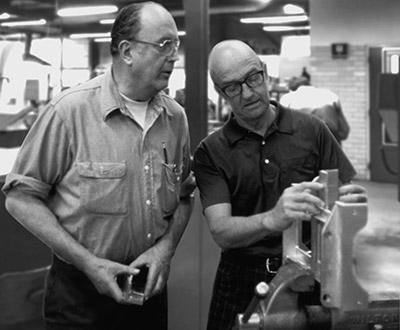 1966
Tinkering starts it all
Bud Bushnell was an entrepreneur experimenting in his garage with pneumatic powered doors. In June of 1966 he began working with a company that made a lifting device powered by bottled compressed air. By September the company was out of business. Bud thought the lift product had merit. He bought the inventory and started his own company, Genie Industries.
A portable pneumatic lift, the original Genie Hoist was launched. "Magic in a bottle" inspired the name for the Genie brand. The lift rising into the air was magical—just like the genie escaping from her bottle.
2 Employees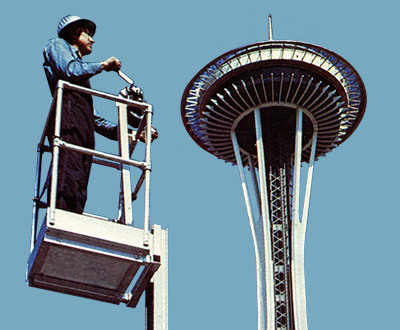 1970's
Expanding markets
A new industry developed in response to the construction boom in southern California: rental yards started renting tools to builders. These rental companies grew up with Genie. Bud visited his new customers to see how his products could be improved. It was the beginning of a commitment to customer relationships that continues today.
Bud was demonstrating the Genie hoist at a trade show when a nearby vendor approached him with an idea: "If you put three of those together and put a platform on it, you could lift a man." Bud got to work and created the Genie Teletower!
60 Employees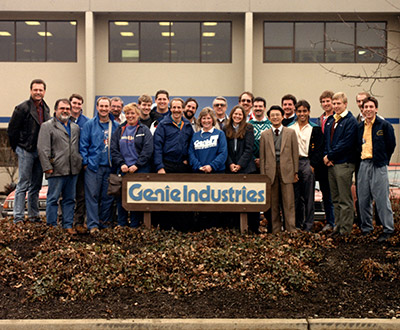 1980's
Building the company
Genie's owners continued to reinvest in the company. Sales were up, new products were on the way, and new markets were buying. Genie needed to expand. Moving to the rural corner of northeast Redmond gave Genie the space to dream.
New, larger self-propelled lifts—like the Z™ 30/20—soon rolled off the lines, changing the market.
The Genie® Z™-lift changed everything. Its breakthrough "Z" shape allowed people to be lifted up first, then out-and-over. You could operate in tighter spaces and reach new heights.
339 Employees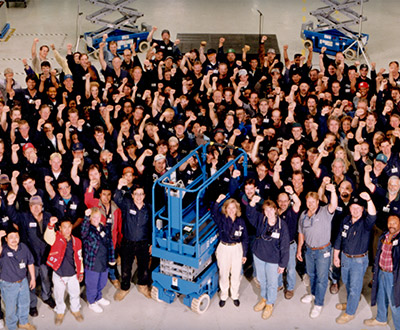 1990's
More industry firsts
Rental companies were Genie's biggest customers. They liked Genie's responsiveness, respect, and product support. And they appreciated the opportunity to make suggestions. When equipment renters said that they wanted to buy all their lifts from Genie, we started making scissor lifts to fill out our product line. Genie was also improving the core product line with feedback from our customers.
The S™-60, launched in 1992, was the first Genie boom for the construction market, while the Z™-45, became the world's most popular boom.
682 Employees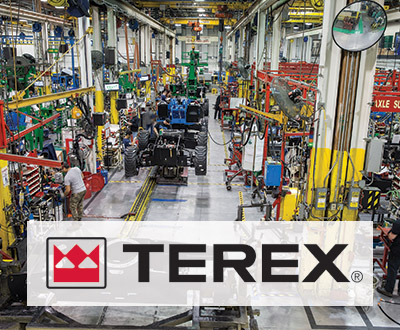 2001-2002
Finally making it big
At the turn of the millennium, Genie had finally arrived. No longer just a local player in the eyes of competitors, we had international recognition for our quality, service, and complete line of products.
Global events in 2001 changed the climate for construction projects on a grand scale. Building projects stalled. Growth of all kinds, all over the world stopped. Genie needed to infuse the company with resources, new markets, and cash. Genie's leaders began negotiations with Terex, a global equipment manufacturing company. In 2002, Genie went from being a family-owned company to being part of a publicly held global company.
1455 Employees
2010-2012
A global leader
Genie lifts are produced in facilities all around the world—Italy, China, the United Kingdom and at four locations in the United States. Our customers are around the world too—in over 50 countries on six continents.
With our growth as part of Terex, the Genie team is stronger than ever. We're still Genie: we care about team members and we're proud to make the best products in the most efficient ways—and have fun doing it.
The 69" DC and RT scissor series were launched in 2011. The GS™-4047, the GTH™-4014 and 4018 telehandlers followed in 2012.
4844 Employees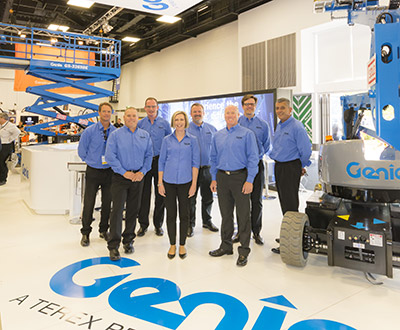 2013-2016
Reaching new heights
In 2013 Genie launches the SX-180 boom lift, breaking all height records for self-propelled machines.
In 2015, Genie positioned itself to dominate the marketplace by launching the most new products in Genie history—all designed with a focus on our customers' return on their investment. Genie launched a new redesigned line of Telehandlers and the Z33/18 boom lift designed with ROI in mind. Our expanded fleet provides customers with a single partner for all their needs, whether it's for buying new machines, maintaining their fleet or providing service and parts.
4811 Employees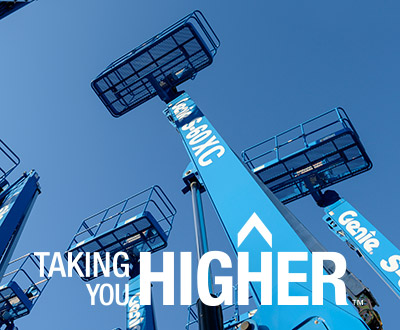 NEXT...
Building the future
As Terex and the Genie team focus on the future you can expect to see us expand our innovative product offerings to meet the needs of our customers. We'll create leading technologies that make it easier for our customers to do business.
We will continue to represent quality in everything we do: safe, dependable products backed by unsurpassed support. Customers will remain our primary focus. The success of Genie is based on the success of our customers—today and in the future.