Cranes & Lifting: Sky High - May 2014
Saturday 31 May 2014 @ 11:49
Across Australia, around the world
The world's tallest telescopic mobile boom, the Genie SX-180, made a big impression during its Australian debut at the Hire and Rental Industry Association Convention on the Gold Coast.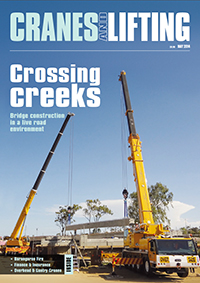 Boasting a platform height of 55m, the Genie SX-180 mobile boom outreaches its competitors by almost 10m.
Terex subsidiary Genie Industries officially launched the machine, which has a horizontal reach of 24.4m and a lift capacity of 340kg, at bauma 2013 in Munich, Germany.
The platform – which is 0.91m in length and 2.44m wide – rotates 160-degrees and can be raised to full height in five minutes thanks to Genie's first five-stage boom. The machine comes with a rotating jib that is mounted on the tip of the boom and can rotate vertically (135-degrees) and horizontally (60-degrees) to position workers and gear effectively.
In addition, the Genie SX-180 is designed to be driven at full height. Travel speeds vary based on boom position, reaching a top of 3.7km/h with the boom in the stowed position, 0.65km/h below 38.1m and 0.17km/h above 38.1m.
Stability is ensured by Genie's patented design X-chassis, with axles that go out 5m to provide operators with a stable foundation.
The chassis also facilitates transport by allowing the contraction of all axles down to a width of 2.5m, thereby eliminating the need for users worldwide to apply for an over-width permit.
"The rotating jib stows back against the boom and the patented X-chassis extends and retracts easily for transport on a standard width truck trailer," Terex aerial work platform senior product manager Scott Krieger told Contractor shortly after the SX-180's launch.
The machine is suited for a range of applications in commercial and industrial construction, oil and gas and the chemical and energy industries. It is also suitable for general maintenance purposes.
The SX-180 can be powered with a Deutz or Perkins engine.
Maintenance has been simplified, with Genie engineers ensuring the mobile boom can be dismantled in two hours.
The SX-180 also offers easy access to important systems and components, hose and harness routings and to slew bearing bolts from the topside.
"When we open up the panels it is easy to get to the engine, the hydraulic pumps and motors from the ground level," Krieger said.
New platform controls consist of toggle switches and fully proportional jib and boom controls. The ground controls feature an updated function diagram layout and tactile membrane switches. A 189-litre fuel tank for longer run time and a 7.5-kilowatt generator are both standard equipment.
Commenting on the machine overall, Krieger said the mobile boom was designed in response to customer demands.
"Customers told us for many years that their jobs were taking them higher, that they needed to get up there and that they needed to have control of the jobsite. The end result is the SX-180," he said.
Australian orders have already been placed for the Genie SX-180, notably from Western Australia, Queensland and Victoria.