Genie Launches Rugged Lighting Towers
Friday 31 January 2014 @ 14:57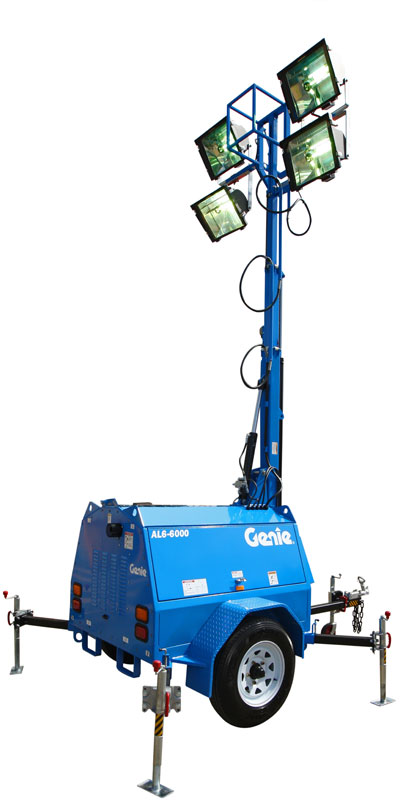 Genie has released two rugged lighting towers, specifically designed for tough work on Australian job sites. The Genie® AL™6 series lighting towers are wholly Australian designed and manufactured in Sydney.
There are two AL6 light tower models available, the 6000 W Genie AL6-6000 and 9000 W Genie AL6-9000. Both feature a compact chassis, Kubota® diesel engine, retractable drawbar and hydraulic mast. Where applications require, mine specification and hydraulic outriggers are also available as an option.
When fully extended, the mast height of the AL6-6000 light tower reaches 8.40 m high. When retracted and stowed, the overall height of the trailer is just 2.30 m. Total weight for towing is approximately 1480 kg. A 160 litre fuel tank provides sufficient diesel fuel for approximately 70 hours of continuous operation.
According to Brad Lawrence, General Manager of Terex Aerial Work Platforms Australia, the development of the new Genie AL6 series has been in direct response to customer demand.
"We have been fielding queries from our customers to supply a Genie branded, quality, mine-specified lighting tower," Brad Lawrence said.
"We researched the market and felt that there was an opportunity to provide an Australian-built lighting tower; one that measures up to the Genie standards of quality and performance. The Genie AL6 series light tower is the outcome of our development work with our Sydney supplier."
The key features behind the Genie AL6 series light towers relate to ease of set up and operation.
The retractable drawbar ensures that the lighting tower is compact both on site and in transit. In fact with the drawbar retracted and the mast stowed, six AL6-6000 units can be carried on a standard flatbed truck.
On site, the hydraulic mast allows operators to easily set up the lighting tower with minimal effort. With this unit, there is no need for winches and cables; set up is achieved with the flick of a switch and the three stage mast is up and working.
The mast can be manually rotated while the light head can be tilted electrically from the ground control station for precise illumination of the work area.
Genie released prototype Genie AL6-6000 light tower units to their customer base for pre-production evaluation. The feedback received was very positive and indicated that the light tower would be well accepted by the mining sector.
The Genie AL6-series light towers are available exclusively through the Genie sales network and will be supported by the extensive Genie parts and service network throughout Australia.