Spring 2014

Genie On-Line Training More Accessible
Monday 04 August 2014 @ 15:40
CUSTOMER SUPPORT AT GENIE HAS BEEN STRENGTHENED WITH THE ON-LINE TRAINING PROGRAM NOW MORE ACCESSIBLE THAN EVER. THE TECHNICAL SUPPORT DEPARTMENT AT GENIE HAS REDUCED THE COST OF TRAINING MODULES.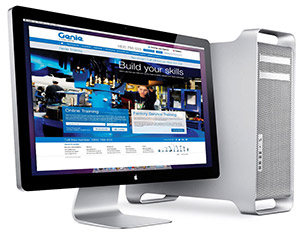 Genie customers will now pay just $150 per training module. Customers who previously bought a training seat under the old pricing structure can claim a free Genie training seat and reap the benefits of further training.
"Our objective is to increase the skills of more technical support people by providing training in a variety of formats," said Mitch Ely, National Operations Manager at Terex Aerial Work Platforms.
"The on-line training program has proven a great benefit to our customers."
There are currently 20 on-line training modules available. These cover basic, intermediate and advanced courses. The twenty modules include various units on boom lifts, scissor lifts and trailer mounts.
The Genie on-line training program allows customers to participate in training at a time, place and pace that best suits them.