Autumn 2014

Genie Set For a Stellar Display At HRIA Convention
Tuesday 08 April 2014 @ 11:40
the official launch of the tallest genie® boom lift, the SX™-180,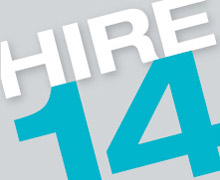 to the Australian market will be at the annual HRIA Convention. This is a 'must attend' event for all Genie® customers and operators of access equipment.
HIRE 14 will be conducted at the Gold Coast Convention Centre from April 29th to May 2nd, 2014.
The Genie® SX-180 boom lift was launched on the world stage just a few months ago in Europe and is the flagship of the Genie 2014 model range. This massive boom lift is now in production. The first unit to land in Australia will be on display at HIRE 14, prior to being delivered to the purchasing customer.
"The SX-180 boom lift is an incredible sight to see operating," said Brad Lawrence, General Manager of Terex AWP Australia.
"By any measure, this is a massive boom which reaches extraordinary heights. We're all very excited about HIRE 14 and showcasing this new model to the Australian access industry."
While the major focus will be on the new Genie SX-180 model, Genie will also have on display the GS™-4047 scissor lift and the new Genie lighting tower, the Genie AL™6-9000.
The GS-4047 scissor lift is a success story in its own right. This is a compact electric scissor which delivers increased working height with powerful lift capability, all delivered in confined work spaces. Demand for this model in Australia and indeed throughout the world has been exceptional.
Work sites in Australia are amongst the most demanding in the world. That's why Genie has released two wholly Australian designed and manufactured lighting towers – they're rugged and they're durable. The Genie AL6 light tower is available in a 6000 watt model and a 9000 watt model. At HIRE 14, visitors will be able to see the 9000 watt model and appreciate the features which make this a standout product.