Genie Steals The Show at Hire14
Sunday 27 April 2014 @ 16:24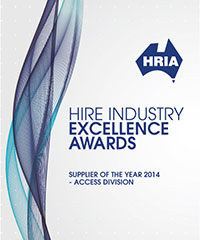 Genie seemed to be the name that everyone at Hire14 kept hearing. Not only was the annual HRIA convention the first official launch of the Genie SX-180 to the broader Hire and Rental industry in Australia, but Genie was decorated with the HRIA "Supplier of the Year – Access Division" award for the first time. Genie was also awarded Best Exhibitor Stand – Outdoors.
"We're not here to win awards," Brad Lawrence, General Manager of Genie Australia said. "But the Supplier of the Year – Access Division award is highly significant for everyone at Genie."
"Collectively we have worked very hard throughout 2013 implementing our 3 year strategic plan. The HRIA Supplier of the Year – Access Division award is due recognition within the industry of how far we have come and that our changes for the betterment of the brand and our customers, have been noticed."
At Hire14, Genie was the focal point of the indoor and Equipment in Action displays. The display in the exhibition hall included a strong representation of Genie's key and latest products. These included the GS-4047 scissor lift, AL6-9000 lighting tower, Z-45 knuckle boom and various models in the material lifts range.
In the outdoor working display area the Genie SX-180 dominated the landscape. The largest boom ever released in Australia was kept busy with customer demonstration rides throughout the three days of the HRIA convention.
It was pleasing to have Terex AWP President Matt Fearon attend Hire14 and see how Genie presents the brand to the Australian industry. Matt was glowing in his praise and welcomed the opportunity to meet many Genie customers.
CHECK OUT THE GENIE CUSTOMER EVENT AT HRIA