IPAF SUMMIT 2014 - Genie® SX-180 boom lift receives IAPA 2014 Product of the Year Award
Wednesday 25 June 2014 @ 13:28
The annual IAPA awards ceremony was held in Windsor near London, UK, on April 3rd and welcomed around 450 attendees this year - a record for the event. Among the fourteen winners to pick up their trophies, the Product of the Year Award in the Self- Propelled Boom category was handed to Matt Fearon, President, Terex AWP and Joe George, Vice President & Managing Director, Terex AWP EMEAR for the Genie SX-180 model that provides an outstanding 57 m (186 ft) of working height combined with an exceptional rotating jib for smooth and precise positioning.
Prior to the award ceremony, among other important industry speakers, Matt Fearon, addressed attendees on the future of the big boom aerial platform sector. "The new Genie SX-180 self-propelled boom is one of the largest in this category. The biggest challenge for a manufacturer when considering such alternatives is to be able to overcome the complexity of physical limitations (height/ outreach coupled with width/weight), and practical limitations (transport, ground structure, designing, test and robust process controls) - all linked together to provide the market with the product they need," said Matt.
"Adapted to the demands of today's highest industrial applications, including oil refineries, power plants, steel structures, stadiums, bridge access, high-rise buildings and the maintenance and erection of harbour cranes, the safe operation of these new generation machines when working at great height will increasingly make hanging baskets from cranes a method of the past. In the duration, you can have equipment you assemble, but for a short term site it does not make sense as the industry of today needs to move in and out easily and rapidly with machines that have the correct floor dimensions, and that are easily manoeuvrable."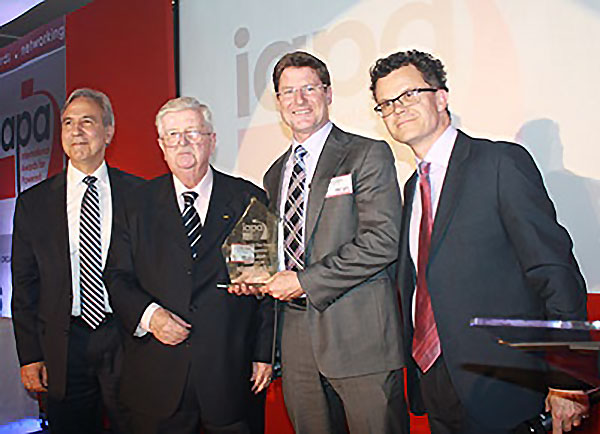 Left to right: Joe George, Vice President & Managing Director, Terex Global, EMEAR; Gerhard Hillebrand, IPAF representative in Italy since 2004, now retired; Matt Fearon, President, Terex AWP; Dom Holland, UK comedian who hosted the awards event.