Spring 2014

Improved Drive Genie Scissors Climb Better
Friday 31 October 2014 @ 12:15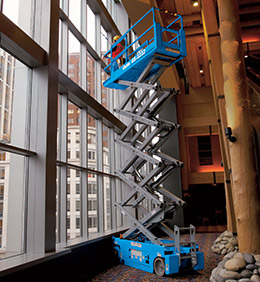 THE DRIVE SYSTEM ON LARGER ELECTRIC SLAB SCISSOR LIFTS HAS BEEN FURTHER ENHANCED WITH A NEW, BEEFED UP DRIVE SYSTEM.
We listened to customers who reported difficulties when climbing ramps on trucks.
To overcome this issue, the pump displacement has been increased from 4cc/rev to 5.6cc/rev.
This increases the flow to drive motors, improving ramp climbing performance and getting the Genie scissor on the job site faster.