Spring 2014

Lighting up the roads for the night crew
Wednesday 29 October 2014 @ 14:31
EVERY WEEKNIGHT AS THE WORKING DAY FOR MOST COMES TO AN END, THE ROAD CREWS PULL OUT OF THE NA GROUP DEPOT IN SYDNEY'S SOUTH WEST. EACH CREW IS FULLY EQUIPPED AND DESTINED TO SPEND THE NIGHT HOURS UNDERTAKING ROAD MAINTENANCE.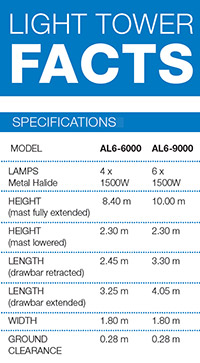 Trucks in the NA Group are now towing a new Genie® AL6-6000 light tower following a complete upgrade of lighting equipment at NA Group.
Company Director Nick Argyropoulos grew up in a family-based road and civil works business.
In 1997 Nick set up his own business, NA Group. Today, the NA Group division holds a series of key contracts to maintain Sydney metropolitan roads. This includes both concrete and asphalt pavements for various councils, NSW road authorities and large civil companies.
"Most of our work is performed at night to minimize disruption to traffic," said Works Manager, Kerry Tambakes.
"We have scheduled maintenance work to do every night, but we also attend to emergency call outs on some of Sydney's busiest roads such as the M5 freeway."
Due to the nature of their job, work site lighting is paramount to good work practices and quality. NA Group owned three light towers and then brought in additional lighting equipment from the hire industry as and when needed.
"Our old light towers were starting to show signs of wear and tear so we decided to seek out a better alternative."
"The key criteria was to get an Australian built product so that the product was fully backed with the best support service possible. That is why we looked at the new Genie® towers which are manufactured in Sydney," Kerry Tambakes said.
"We took an AL6-6000 light tower from Genie on a week trial and also a second tower from a competitive company. The Genie AL6-6000 light tower instantly won over the guys working on the night shift. The light was noticeably stronger and the Genie units were much better to tow than our old models."
The decision to purchase the four new Genie AL6-6000 light towers was an easy one to make.
Michael Scott, Genie Regional Sales Manager demonstrated the light towers explaining that parts are straightforward to source and local onsite service and warranty support is available. The quality is first rate and the Genie light towers perform well in the toughest of environments for example rental and mining.
"This is the first time that we have had Genie equipment in our yard and we're very impressed," Kerry Tambakes said.
"Each of the towers logs up 250 hours operation every four weeks, so they have been put to the test and come through with flying colours."