Spring 2014

Non-Marking Tyres Suit Genie® Z™-34/22
Friday 31 October 2014 @ 11:21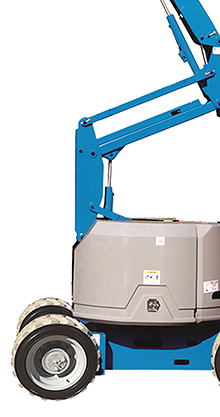 THE GENIE Z-34/22 IS A POPULAR AND VERSATILE BOOM LIFT WHICH IS OFTEN USED IN INDOOR SITUATIONS, WHERE THERE IS THE POTENTIAL FOR UNSIGHTLY MARKS TO BE LEFT ON SOME FLOOR SURFACES. A SIMILAR PROBLEM CAN EXIST IN OUTDOOR AREAS WITH ARCHITECTURAL FINISHES TO PAVED AND CONCRETE AREAS.
However, by fitting a set of non-marking tyres from Genie, the problem is solved. The non-marking tyres feature a distinctive grey tread making them easily identified from the standard all black Genie™ tyres.
The non-marking tyres can be used both outdoors and indoors ensuring that utilization from start to finish is maximized. Moreover there is no compromise in traction or general performance between the two different styles of tyres.
As the name implies, the non-marking tyres from Genie minimise scuff marks on sensitive floors. This makes job site cleanup quicker, easier and less expensive.
The Genie Z-34/22 boom lift non marking tyres can be specified to be supplied with new machines, or retrofitted as an aftermarket part for existing machines.