Autumn 2014

Hireworks grows while Darwin Booms
Tuesday 25 February 2014 @ 11:34
In many respects, the Darwin market in the Northern Territory has been regarded as a 'sleeper.' But in the pa st 10 years, the Top End region has come of age to the extent that it is now regarded as a one of the boom towns in Australia.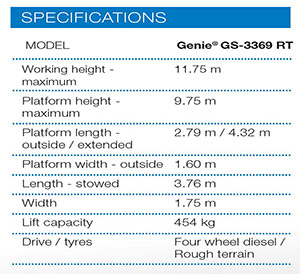 Years of steady and sustainable growth in the city and surrounds have given way to the frenetic pace of major developments. The Darwin Airport, Darwin Harbour development, residential apartment towers and now a $34 billion INPEX Ichtys LNG Project. There are also reports of the Royal Australian Navy establishing a major facility in the Top End.
The enthusiastic pace at which the metropolis now breathes is self evident. The spin-off benefits to Genie customers of all sizes in the Top End are significant.
Hireworks is one of the success stories in the Top End. Hireworks owner Glenn Broadway is a veteran of the hire and access industry in Darwin. He opened the doors of Hireworks two and half years ago and has enjoyed sustained growth from day one.
"We have identified a local market that serves us ideally," said Glenn Broadway. "There are obviously some huge contracts in Darwin and these in the main go to the national players in the access industry. I'm comfortable with that and we often get some overload and cross hire work."
"Our core business is supporting the local tradies and building contractors. Because of my 10 years in Darwin in this industry, I market the business as a local hirer supporting the local trades."
Throughout his time in Darwin, Glenn Broadway has enjoyed a great relationship with the Genie® brand. It has always had a strong presence in the fleets where he has previously operated.
"I'm really familiar with the Genie range and key products," said Glenn. "At Tru Blue Hire and Wilson Hire, Genie was the core of our fleet. The Genie access equipment is reliable and the company has a great customer support program."
The Hireworks fleet includes Genie models GS™- 3369 RT scissor lift, Z™- 34/22 and Z™- 45/25 knuckle boom lifts.
"I have the utmost confidence in the longterm growth of the Top End market," Glenn said. "Although Hireworks is still a young business, I've signed a 10 year lease on my property. That's confidence."