Spring 2014

Operations Group Reinforces Genie Can Do Principals
Friday 31 October 2014 @ 10:35
THE RESTRUCTURE OF THE GENIE SUPPORT SERVICES IN AUSTRALIA HAS BEEN ACTIONED WITH A SINGLE OBJECTIVE IN MIND – TO PROVIDE INDUSTRY LEADING AFTERMARKET SUPPORT TO GENIE CUSTOMERS.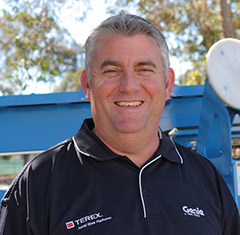 With the introduction of the Operations Group, the core functions of parts, service, engineering and the technical department at Genie are now brought together under a single banner.
According to Mitch Ely, National Operations Manager at Terex Aerial Work Platforms, the focus on 'the customer' is now sharper than ever.
"The new Operations Group allows us to allocate resources much better than before," Ely said.
"We are able to take a holistic approach to the needs of Genie customers because our support services are all working collaboratively to achieve the same objective.
Our starting position with customers is one of a 'can-do' attitude."
"Our job is to help, support, guide and assist where and when needed."