Autumn 2014

Product Feature - Genie Superlift Perfect for Contractors
Tuesday 08 April 2014 @ 10:26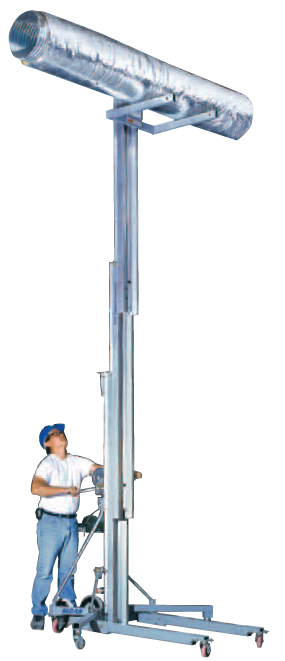 There are often situations on a worksite which calls for low weight, easy to use, material lifts. This is exactly the scenario for which the Genie® Superlift Contractor™ was developed.
Ideal for construction firms, duct installations and other general industrial applications, this unit can easily be operated by one person. It is rated to lift, lower and move loads of up to 295 kgs (650 lbs).
The Genie Superlift Contractor (SLC) is available in three models, all of which have identical lift rating. The lifting height varies however from 3.94 m on the SLC™-12, through 5.64 m on the SLC™-18 and 7.32 m on the SLC™-24 model.
On the job site, set up time is minimal and no tools are required. The unit simply folds out, the interchangeable load handling attachments are added, and it's ready for work. Job access is straightforward as the Genie Superlift Contractor fits through a single doorway.
Raising and lowering the forks on the aluminium mast is achieved with a single speed manual winch. A two speed manual winch is available as an aftermarket option. For safety, the winch locks the load in position.
All Genie Superlift Contractor models are fitted with non marking front and rear casters. Side brakes are standard. All three models have folding legs and removable attachments which makes transportation and storage easy. The Superlift Contractor can be transported to and from the job site in the back of a pickup truck.
Many attempts have been made to emulate the innovative design of the Genie SLC lift, which is a testament to the originality and industry leadership of the Genie brand.

MODELS
SLC-12
SLC-18
SLC-24
MEASUREMENTS
METRIC
METRIC
METRIC
standard forks - forks down
3.40 m
5.10 m
6.78 m
standard forks - forks up
3.94 m
5.64 m
7.32 m
adjustable forks - forks down
3.40 m
5.10 m
6.78 m
adjustable forks - forks up
3.94 m
5.64 m
7.32 m
boom**
3.70 m
5.41 m
7.10 m
Height - stowed
2.18 m
2.18 m
2.18 m

Length - stowed
- operating

0.86 m
1.60 m

0.86 m
1.85 m

0.86 m
2.06 m

Width - stowed*
- with stabilaizers lowered

0.80 m
1.68 m

0.80 m
1.68 m

0.80 m
1.68 m
*Outside dimension s**Measured from ground to bottom of shackle.