Spring 2014

Report on the Asia Pacific Region Spring 2014
Monday 20 January 2014 @ 13:12
by Mike Davis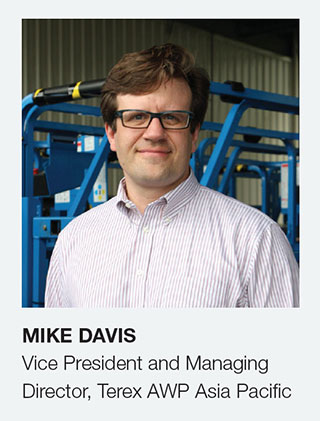 GENIE CONTINUES TO EXPAND ITS GLOBAL MANUFACTURING CAPACITY WITH THE CHANGZHOU, CHINA FACILITY NOW MANUFACTURING AND SHIPPING GENIE® S™-80 AND S™-85 BOOMS.
They join a growing list of products built in the facility including most slab scissors models, Z™-45's boom lifts, and super booms. This fits well with our business model as we are manufacturing identical models to the US and Europe, but closer to our key markets in Asia Pacific. The Terex AWP team in Changzhou, China is establishing a great track record of bringing new models into production quickly and smoothly.
Global delivery of the Genie® SX-180 boom lift continues with Southeast Asia receiving its first SX-180 boom. The official launch to the region was held in Singapore during October to a large group of dealers from throughout the region. It is currently the tallest self-propelled telescopic boom lift in Southeast Asia.
Sydney is developing into a hotspot of activity after many years of non-residential construction being flat. The first phase of the Bangaroo project in central Sydney has begun. Currently, it is only a small part of what is planned and when complete, will totally change the skyline of the city. Likewise there are plans underway for bigger highways, tunnels, and even a second airport. Our customers are feeling very positive about the market in coming years.