November 2013

Report on the Asia Pacific region
Tuesday 29 October 2013 @ 15:26
by Mike Davis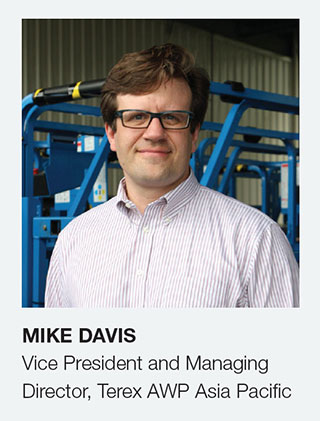 Although 2013 has been a challenging year for much of Asia Pacific, there are significant signs of improvement and considerable opportunity in many regions.
This quarter I visited Adelaide, South Australia, one of the areas experiencing growth. This city is enjoying a strong period of construction with numerous large projects underway. Unlike many of the major cities in Australia where we have seen a slowdown in nonresidential construction this year, the Adelaide metropolitan area is experiencing a boom. There is $2 billion of work currently in progress including a new hospital, medical research centre, elevated highway and redevelopment of the historic Adelaide Oval.
I also travelled to South Korea and Japan, two hotspots of activity, visiting customers and Genie team members in Seoul, Busan, and Nagoya. While in Seoul, I toured the two largest construction aerial rental companies in South Korea; Aju Rentals and Korea Rental. I then traveled to Busan, South Korea's second largest city, to visit the Genie warehouse and PDI centre.
In Japan, I attended the Yuasa tradeshow in Nagoya, Japan's third largest city. Yuasa, a large equipment dealer, supplies a network of 300 small and medium-sized rental companies across Japan. Yuasa holds five regional shows a year with a combined attendance of more than 50,000 visitors. The two-day show at Nagoya saw in excess of 9,000 visitors. It was a great chance to spend some time with the Yuasa team as well as meet many of their valued customers.
With optimism about the Japanese economy arguably at its highest level in two decades the future is looking very positive for Japan and much of the Asia Pacific region in 2014.