Summer 2014

Report on the Asia Pacific region
Monday 20 January 2014 @ 13:12
by Mike Davis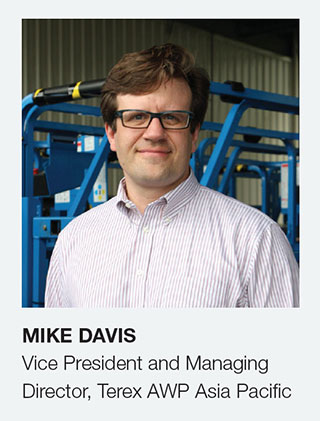 From China to Thailand to Western Australia, the Genie® brand is strong and enjoying many new initiatives.
The auto industry in Thailand continues to experience tremendous growth. Last year 2.5 million cars were manufactured in Thailand and this growth creates increased demand for aerial work platforms to build and maintain the factories. For Genie, Thailand has been a great success story.
Thanks to the hard work by our dealers and local Genie team, we have the highest market share in Thailand. The Genie brand dominates in this competitive market.
The Terex AWP factory in China is ramping up production with dramatic changes. Just a year ago, the factory was making Superbooms. Now there are GS™-46 scissors, Z™-45 booms and the S™-60 booms rolling off the production lines. For 2014, our China factory will introduce the GS™-1930/32 and more boom models. This fits well with our business model as we are manufacturing identical models to the US and Europe, but closer to our key markets in Asia Pacific.
In Western Australia, 2013 was a challenging year. After coming off boom times, the market experienced a slowdown in 2013, although our parts and service business remained exceptionally strong due to the prolific amount of Genie equipment in the mines. The optimism in the West for a strong 2014 is well founded as the $29 billion Wheatstone LNG project near Onslow is out of the ground and we are delivering the first of many Genie units already.