Autumn 2015

Save the date for the HRIA 2015 Convention – 'Destination Success'
Monday 16 February 2015 @ 14:17
The upcoming Hire and Rental Industry Association Convention, themed 'Destination Success', is being held in Adelaide from the 28th-30th April, 2015. The Exhibition will be held at the Adelaide Showground, and the Convention at the InterContinental Hotel.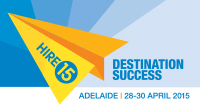 Save the date for it, this Convention is shaping up as being one of the best for Genie customers and operators of access equipment.
For the first time, Genie is the Platinum Sponsor of the HRIA Convention. "This is a position we're very proud of, and delighted to hold", said Brad Lawrence, General Manager of Terex AWP Australia. "The Platinum Sponsorship is a great way for Genie to be engaged with our existing and prospective customers and to show our support for the hire industry in general and the Hire and Rental Industry Association in particular.
"In addition to the Genie equipment showcased at the Convention, which always attracts great interest and attention, a real highlight of the 2015 event for us will be hosting the Genie Customer Appreciation night. As usual, the setting is a secret – you'll only find out on the night where you're going and what's happening, but I'm very confident you won't be disappointed with what we've got planned.
"Take note though, the Genie Customer Appreciation night is on Tuesday 28th April, the night before the trade exhibition gets underway. So if you're planning on attending the night, which we hope you do, please save the date and make sure you arrive in Adelaide in good time to be there at the night's beginning. Remember, we will all be heading off together for somewhere special", Brad said.
At the Adelaide showground, you'll find Genie at booth 46 indoors, and, at stand E4 outdoors. Come along and see some of the great equipment we'll have on show. Our fantastic Genie® SX-180 boom lift will be there, which you can take a ride on, up to all of its 56.7 m/186 ft working height if you're game!
We're expecting lots of interest in our new Genie® GS™-69 BE Hybrid scissor lift which will be on display (and which you can read all on page 4 of this edition of Blue News).
We'll also be showing the new Genie® Z™-62/40 articulating boom lift. This new model has a working height of 20.87 m (67 ft 11 in), higher than its predecessor, and a maximum horizontal outreach of 12.47 m (40 ft 11 in), also further than the previous model. All of these features are available on a machine that weighs only 9,934 kg (21,900 lbs) and stows to the compact size of 7.58 m (24 ft 10.5 in) with the jib tucked.
There will be plenty of other outstanding Genie equipment on show, please come and check it out.
The 2015 HRIA Convention in Adelaide promises to be a vintage event – we hope to see you there!
For more information visit www.hireandrental.com.au/whats-on/convention