November 2013

Service support expands in Darwin
Wednesday 30 October 2013 @ 13:20
With more than 15 years of providing Genie equipment into Darwin, there are an estimated 300 Genie units already in the market. And the Genie fleet grows by the week as the market demands more equipment.
Genie has always prided itself on providing first-rate aftermarket support for the Genie equipment in the Top End, and this year it just got better!
Darwin Access Services, the first service specialist in the Northern Territory, wholly dedicated to access equipment delivers on the ground Genie servicing. Darwin Access Services is owned and operated by Joab Coyne.
According to Joab Coyne, the strength of the Genie brand in the Top End can be attributed to the industry leading service support provided by Genie.
"The Top End market is a pretty harsh place for equipment," Joab said. "Genie is the best by far when it comes to backing their products. The priority of Genie is to keep the equipment ® running and this can only be achieved through top rate service and parts support. They care and it shows."
Joab began in the access industry with Top End Access. After seven years, he established Darwin Access Services with the sole objective of providing first rate service support right across the Top End. This involves regular trips to Alice Springs, a 3000 km round trip by road.
As a local, born and bred in Darwin, Joab is convinced that Top End people like to support local business.
"It is personal. People in Darwin like to deal with and back the local tradies and suppliers. Positive word of mouth is pretty important in Darwin and we get a lot of business this way. People are familiar with both Genie and me because we've both been here a long time."
Having built a strong presence in the Top End market over so many years, Genie is proud to have formed a strong service association with Joab. Together, we are dedicated to the support of Genie customers right across the Northern Territory.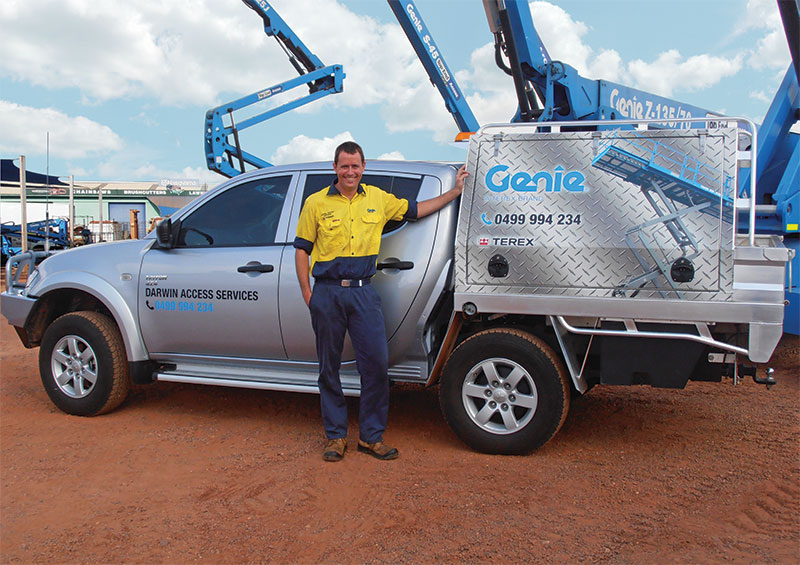 Parts Support in Top End
In the Top End, Genie is certainly the dominant brand of access equipment. Genie has enjoyed strong customer relationships and sustained growth in the Darwin market and with the region currently set to experience another boom period, Genie continues to invest in customer support for the region.
Genie recognizes that a critical element of aftermarket support is readily available parts. To reduce machinery down time and keep your fleet operational for longer, Genie has invested in holding a wide range of Genie Parts in Darwin.
Now instead of down time waiting for parts to arrive from the southern states on either overnight air freight for smaller parts, or road freight which typically takes a week for larger parts, an extensive inventory of Genie Parts will be on hand in Darwin.
This will help ensure that Genie equipment is kept out on hire and operating at a productive level.