August 2013

The Human Side of Working in the Pilbara
Thursday 15 August 2013 @ 10:15
Supporting customers in the Pilbara brings with it a heightened degree of risk. This is one of the most inhospitable, remote places in Australia.
At Genie we're all very proud of our Service Technician, Carl Manson, who went well beyond the call of duty to assist at a single vehicle accident.
A service technician from Access Hire rolled his car three times. Carl was the first to stop and lend assistance. After checking over the driver, Carl used his satellite phone to notify Access Hire management of the accident and notified Solomon Mine of the situation.
The good work didn't end there. Carl stayed with the driver, assisted in rolling the car back on to its wheels and then followed him back to Karratha.
Alan Harris of Access Hire said that Carl Manson was to be commended for the fine support that he offered.
"Up here it is a long way between services and what Carl did was above what was expected. I realise that time up here is precious, and know your Genie client may be disappointed that their machine was not repaired."
"However I think these items fade into insignificance when compared to a life. On behalf of Access Hire and myself, thank you for assistance."
Genie management fully recognizes the outstanding steps that Carl took to assist a fellow worker. As a mark of appreciation, Brad Lawrence, General Manager, made a special presentation to Carl, comprising a trophy and a gift voucher.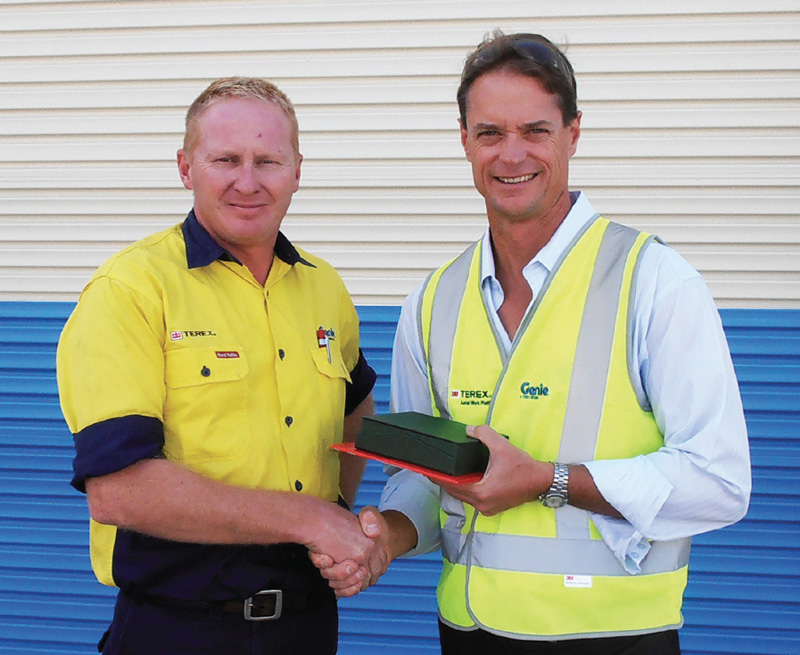 Carl Manson, Service Technician with Brad Lawrence, General Manager, Terex AWP Australia