Wind Power is Booming in Michigan
Tuesday 07 October 2014 @ 10:23
New lifts help maintenance crew rise to the occasion in turbine blade retrofit.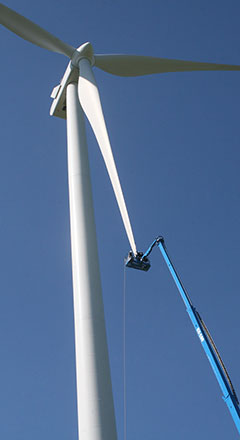 For Tim Matthews, it would seem that "good enough" is never good enough. The site supervisor (maintenance group) for Danish wind turbine manufacturer Vestas Wind Systems is continually looking for ways to increase efficiency in his turbine maintenance and repair operation. On a recent project to retrofit 50 Upper Michigan towers with lightning-deterrent tips, Vestas crews utilized four new self-propelled Genie® SX-180 booms. Offering 180 feet of vertical reach, the new boom is the largest unit the company currently offers and, despite a wet, cold spring which hindered production, played a key role in helping Matthews and his crews get back on track and actually complete the project a bit ahead of schedule.
Huge Presence
Driving through rural America, a landscape that is becoming increasingly dotted with individual turbines and larger wind farms, a glance in any direction will generally present a view of a wind turbine, according to Matthews.
"As a company, we're among the leading wind turbine manufacturers in North America in terms of installed capacity," he says. "Our company is based in Denmark, but here in the U.S. we have sales offices in Portland, Ore., and manufacturing facilities at several locations in Colorado. Part of an after-sale service we offer is a maintenance contract with the companies that purchase our turbines. That was the case with Exelon Corp. (Chicago, Ill.) which owns and operates the wind farm called Michigan Wind 2 in the part of the state we call 'the thumb.'"
The contract to which Matthews refers called for Vestas to install lightning-deterrent copper tips on the blades of each of the 50 turbines operating at the 90 MW capacity Michigan Wind 2. Even at their lowest position, the turbine tips are better than 155 feet off the ground, so access to the work area is, at best, challenging. Though they'd done this type of work countless times in the past, when considering the pending work, Matthews felt it was time to look into a better means for accessing the blade tips.
Newer. Bigger. Better.
Matthews' motivation to seek an alternative was partially based on information he had been receiving from Chad House, sales rep from the Midland branch of Titan Equipment. Ongoing discussions between the two had been centering on the new Genie SX-180 boom which was just about ready to ship when the contract at Michigan Wind 2 was finalized.
"The timing couldn't have been better for us," says Matthews. "We had already been looking into using a Genie Super Boom on a previous project, but things didn't quite pan out. The fact that these were coming available just as we were starting up was a good sign. Vestas is constantly looking for more efficient and cost-effective ways to do the job out here and these lifts, by nature of their much shorter setup time, looked to be a great solution for us."
Matthews particularly liked the fact that the new booms offered 180 feet of reach, about 25 feet more than they actually needed to do the retrofits.
"It's nice to have that additional reach in reserve," he says. "It allows us room to maneuver the boom into the best possible position, rather than being constrained by a boom whose reach has been maxed out. With an extra 25 feet of reach, additional opportunities like looking further up each blade for lightning damage or leading edge erosion become possible. That's a nice luxury to have."
Safety First
While the height (to the untrained) is daunting, Vestas' actual procedure for retrofitting the blades with the lightning deflectors was fairly simple. First, using controllers in the tower, workers moved the rotor into the appropriate position (with the target blade pointing downward), then set a service brake which locked it in place. Locking pins further ensured that the blade and rotor remained stationary.
"There is a pretty intense lock-out procedure in place anytime we are accessing these blades," says Matthews. "Once we have it in position and secured though, we simply boom up to the blade, remove the existing lightning receptor and, using a combination of bolts and an adhesive, affix the new copper tip to the blade. The biggest challenge thus far has been dealing with the weather. The adhesive used to secure the new tips is extremely sensitive to temperature and humidity and unfortunately we've had to deal with both. But we've managed to keep production up in spite of that."
The SX-180 offers a number of features that Matthews' crew found particularly beneficial in the turbine project. These include an 8' X 3' work platform (ideal for two men and the equipment needed for the retrofit), a width that expands from 8' 2" to 16' 6" (which he felt provided impressive overall stability) and a 10' jib that rotates 60° horizontally and 135° vertically.
"My crews report that having that kind of movement on the jib has been a real asset on this project," he says. "They've been able to access specific work areas much easier than in the past. As a result, production rates have been very favorable for us: depending on weather, we were generally completing three blades in two days. That's been very good for us."
Respect for the Dealer
Matthews says they've tapped alternative methods for turbine maintenance and repair in the past, but have found the Genie SX-180 booms to be ideal from both a performance and operational cost standpoint.
"We've used a couple different options including one which involves a suspended platform," he says. "That works but, because of the rigging involved, can be a four- or five-man operation versus only two or three with the Genie lifts. We've also subcontracted to companies that provide truck-mounted booms. While those are effective, they come with their own set of challenges such as scheduling and equipment optimization. When we contract to a company like that, we commit to a pre-set time frame and if, for some reason, there is downtime in the project, we are still paying for their time while the machines sit idle. And if they have other commitments after our contract is up, they are gone and production is halted until they are available again — and they are often solidly booked. It can be a headache."
By comparison, working through Titan Equipment, Matthews and his crew (they have two dozen personnel at the Michigan Wind 2 project) simply rent the machines, get fully-trained on operation and safety, and begin work. As a result, they've seen a nice a reduction in overhead and associated standby costs.
According to Matthews, their relationship with Titan has been solid, largely because of light set and generator rentals, but it really grew as the introduction of the Genie SX-180 became apparent and Titan worked to obtain some of the first available units.
"Titan has been just outstanding before and throughout this project," he says. "Because of a tight schedule to get these 50 turbines done, we've had to work when the weather is good. That's meant our fair share of Saturdays and Sundays and Titan has always been there to accommodate our needs. In our business, having a good equipment dealer is a great thing to have — if these turbines aren't spinning, they are not producing power. We can't say enough about Chad and the team at Titan Equipment."
Vestas' crews at Michigan Wind 2 kicked the retrofit project off in early May and, despite an abnormally cold spring and rising humidities throughout summer, completed all 50 towers by mid-July.
"There's no doubt having the luxury of those lifts helped us in that regard. On larger projects like this, hands-down I'd say that's the way to go."