Spring 2014

Youngman Richardson & Co, Build Genie Market Strength
Wednesday 29 October 2014 @ 15:20
FOR ALMOST 35 YEARS, YOUNGMAN RICHARDSON & CO HAS BEEN SUPPLYING WORLD LEADING CONTRACTING AND INDUSTRIAL MACHINERY TO DISCERNING BUSINESSES IN NEW ZEALAND. SINCE 1999, GENIE® EQUIPMENT HAS BEEN DISTRIBUTED AND SUPPORTED IN NZ BY YOUNGMAN RICHARDSON & CO WITH THE GENIE® BRAND ENJOYING SIGNIFICANT MARKET SHARE.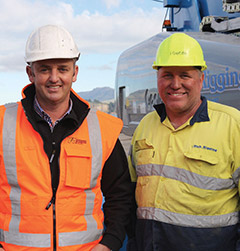 Left: Ed Richardson -
Sales and Marketing Director, YR & Co,
and Owner Murray Rich - Rich Rigging


The values which led to Youngman Richardson & Co (YR & Co) being founded by Bob Youngman and Tim Richardson in 1981 remain at the heart of the business today.
YR & Co is a family business based on delivering quality equipment, backing it with market leading service and conducting business with the most ethical of values.
The fit between YR & Co and Genie is the perfect match. Quality, service and ethics. Genie is a world leading manufacturer of high quality equipment and this sits very comfortably alongside the suite of brands that YR & Co manage in the NZ market.
YR & Co have their head office in Auckland. This is a substantial operation with 4,500 m² devoted to showroom, retail shop, administration, warehousing and technical support. On the South Island at Christchurch, YR & Co has an impressive regional facility offering offices, showroom, warehousing and technical support.
"Through the tough years of the Global Financial Crisis (GFC), NZ took a big hit in the building and construction sectors," said Ed Richardson, Sales and Marketing Director of YR & Co.
"Gladly the market has come through the GFC and we are now seeing and experiencing expansion in the market. Demand for Genie® equipment is as strong as ever, evenly spread across all product segments."
"We are experiencing very solid growth within the hire and rental market, the very customers that this company was developed to serve. However, equally strong is our association with the construction market and our direct supply channels who are now a very big part of our business and growth."
As an indication of the strength of the NZ market, YR & Co sold and delivered the first Genie® SX-180 boom lift to the Auckland based company Rich Rigging.
The success of that sale has led to Rich Rigging ordering a second Genie® SX-180 boom lift.
While distributing the Genie® product is a core capability, YR & Co shares the Genie commitment to product support. There are dedicated training centers at both the Auckland and Christchurch branches. In addition the service operation is being expanded to now include five workshop team members in Christchurch and six in Auckland.
A fleet of new YR & Co field service utes are also on order.
According to Michael Scott, Genie Regional Sales Manager NSW/NT/NZ the association between Genie and YR & Co is first rate.
"We have the utmost respect for the job that YR & Co are doing for Genie products and Genie customers in the NZ market," said Scott.
"YR & Co is totally committed to the AWP industry being active in HIANZ and supporting the industry association as their Principal Sponsor. Ed Richardson and his team have fully embraced the Genie proposition; it's a highly valued partnership that we continue to enjoy with YR & Co."