Winter 2015

Access Hire Australia puts three Genie® SX-180 boom lifts to work in Darwin
Tuesday 07 April 2015 @ 11:44
Access Hire Australia, one of the nation's largest privately owned elevated work platform suppliers, has delivered three of the highest-reaching Genie® SX-180 self-propelled boom lifts to the Ichthys project.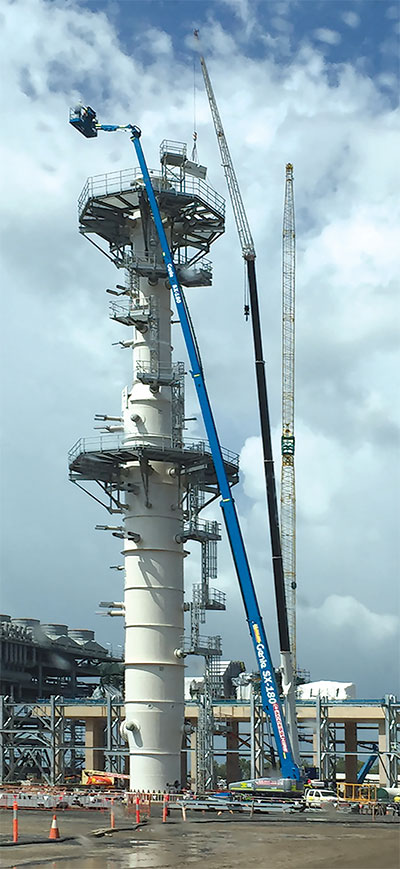 These three Genie SX-180 boom lifts, with an incredible working height of 56.7 m (186 ft), have promptly been utilised at the Inpex Ichthys LNG processing facility in Darwin, a major part of one of the largest gas projects in the world with an estimated total development cost of US$34 billion.
On site, the boom lifts are being put to a wide range of uses as construction of the massive processing facility continues, with one of their key applications being to replace the use of crane-supported man cages for work conducted at great heights.
Dean Rullo, General Manager and Sales Director at Access Hire Australia, said, "The feedback we have had from our clients is that the Genie SX-180 boom lifts have been very well received. We've been told that they're increasing productivity on the site and enabling costs savings."
The majority of Access Hire Australia's extensive hire fleet is Genie® products. Indeed, the hire firm, with branches throughout WA and SA, as well as in NSW and the NT, is one of the largest Genie customers in Australia.
Dean said, "Our success has been built on our ability to supply specialised equipment to Australia's construction and infrastructure projects. Our capital investment in this equipment – most of which is Genie – has been critical in enabling our clients to execute and deliver on their projects, many of which are in remote regions.
"We are excited to be able to supply the Genie SX-180 boom lifts to the Ichthys LNG facility at Darwin, to meet our client's needs on this significant project."
The Genie SX-180 boom lift is designed to be productive, reliable and easy to transport. It features a working envelope ideal for the most extreme access jobs, with a vertical reach of 54.9 m (180 ft) and horizontal reach of 24.4 m (80 ft). It has a standard 2.44 m (8 ft) self-levelling platform with an unrestricted capacity of 340 kg (750 lb), and can be driven at full height. Without doubt, the Genie SX-180 boom lift is a truly remarkable aerial work platform.