Winter 2015

Access Solutions expands with Help from Genie as Christchurch rebuilds
Tuesday 07 April 2015 @ 11:46
Operating in Auckland, Wellington and Christchurch, Access Solutions is one of New Zealand's leading access hire, scaffolding and forklift rental firms.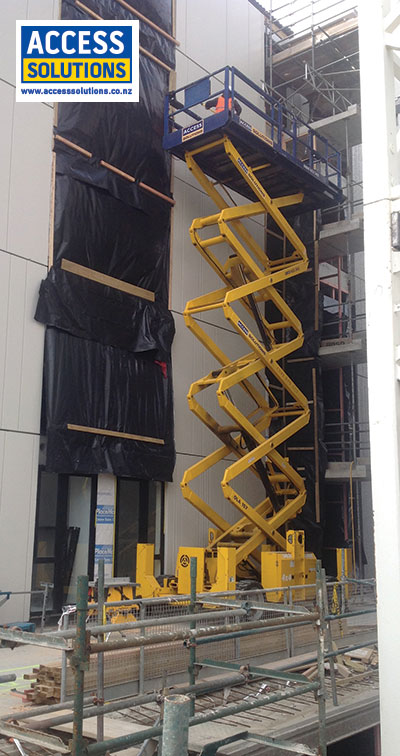 Led by respected industry leaders Michael Biddick and Neil Radley, Access Solutions prides itself on its commitment to supplying quality, leading-edge product—so it's only natural that it sees its relationship with Genie as central to its business operations.
Access Solutions recently purchased 40 electric scissor lifts across the GS-1932, GS-2646 and GS-3246 ranges. "It's also about to take delivery of five Genie® GS-5390 machines as part of its business expansion into Wellington and Christchurch," said Ed Richardson, Sales and Marketing Director from Youngman Richardson & Co Limited, the distributor of Genie machines in New Zealand.
"The expansion into Christchurch is in support of the rebuilding work that continues in the wake of the earthquakes that have wreaked havoc in the Canterbury capital," added Mr Richardson, referring to the earthquakes that hit the Canterbury region in 2010 and 2011.
Access Solutions first acquired Genie GS-5390 scissor lifts in 2005 and is now trading in those ten-year-old machines for new models. "It's not a hard decision to make to keep going back to the Genie team, as they are a world-leading supplier of access equipment," said Access Solutions' Michael Biddick. "The durability and reliability of Genie® machines keeps us coming back."
Likewise the aftermarket support offered by Youngman Richardson is a big tick in the box for Michael Biddick. "The backup support for the Genie® products is very important to us," he said.
The strength and longevity of the Genie® brand are also key factors in Access Solutions' decision making. "We don't deal with access equipment manufacturers who are here today, gone tomorrow," said Michael. "Our preference is to work with long-standing suppliers to ensure we deliver the best access solutions to our customers."
Access Solutions recently moved into new premises in Christchurch. "This move has enabled us to expand our services in support of our clients who are involved in the reconstruction of Christchurch," said Access Solutions' Michael. The city was hit by a magnitude 7 earthquake in September 2010, which caused damage to homes and roads but no deaths.
In February 2011, while repair work was under way, another quake hit, leading to the loss of 185 lives. Close to 100,000 homes sustained damage, and 7,000 of those were condemned. About 70 percent of the structures in the CBD were levelled or so badly damaged that they were marked for demolition, including the historic cathedral. Subsequent aftershocks, such as one in June 2011, have caused further damage in the region.
Demolition and construction sites are now a familiar part of the Christchurch scenery, as work continues on rebuilding the city's centre, a task that New Zealand Treasury has estimated will cost a total of NZ$40 billion (A$38 billion). "Christchurch will look very different to the pre-earthquake city. It's an ever-changing landscape," said Michael.