Winter 2015

HRIA Convention 2015 - Genie launches record number of new products
Tuesday 07 April 2015 @ 15:43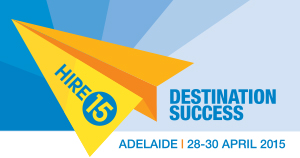 Get set for the Hire and Rental Industry Association convention in Adelaide from 28th to 30th April. This event is sure to live up to its theme: 'Destination Success' – as it will be the place to be if you're seeking success in the access hire industry.
This year, Genie is delighted and proud to be the Convention's Platinum Sponsor. Brad Lawrence, General Manager of Terex AWP Australia said, "It's the first time Genie has had the honour of this role. It's a sign of the depth of our commitment to, and involvement in, the hire industry and our belief that 2015 HRIA Convention in Adelaide is definitely the place to be!"
"We urge aerial access companies and users to come along. You're bound to have a good time, and see some really interesting equipment, particularly from the Genie brand as we are launching a record number of products at this year's show. We're indoors at the Adelaide Showground at booth 46, and outdoors at stand E4."
One of the display highlights will be the astounding Genie SX-180 self-propelled boom lift. With a working height of 56.9 m (186 ft), it's our highest reaching boom, and a superb machine for those needing to work at great heights. Come along and have a look at it, and if you're game, take a ride on it.
Also on display will be the new compact and lightweight Genie electric boom lift, the Z-33/18. Available in Australia in the 3rd quarter this year, the Z-33/18 boom lift has a wide range of features including a tight inside turning radius with zero tail swing for excellent manoeuvrability, a working height of 12 m (39 ft 4 in), a horizontal reach of 5.57 m (18 ft 3 in) and an AC drive transmission which has low battery consumption for increased machine efficiency. The working platform also supports weights of up to 200 kg (440 lbs).
Another machine bound to attract interest is the new Genie® GTH™-2506 telehandler, redesigned with the latest Load Management System (LMS) technology on board.
It is simple to transport and built to increase mobility, this compact Genie telehandler, ideal for rough terrain, is designed to get the job done in tight and congested areas with the capacity to lift up to 2,500 kg (5,511 lbs). Also on display will be the new 69 BE hybrid scissor lift and the new Z-62/40 boom lift.
For all those attending the HRIA Convention, please note that the Genie Customer Appreciation night is on Tuesday 28th April. In keeping with tradition, the setting for the night's activities is a secret, but we're sure you'll like it. Please remember to arrive in Adelaide in good time for the night's beginning, as we will all depart from the Intercontinental Hotel foyer at 6:30 pm.
Looking forward, hopefully, to catching up with you in Adelaide!