Autumn 2015

'First on and last off' with the new Genie® GS™-69BE hybrid scissor lift series
Monday 16 February 2015 @ 13:40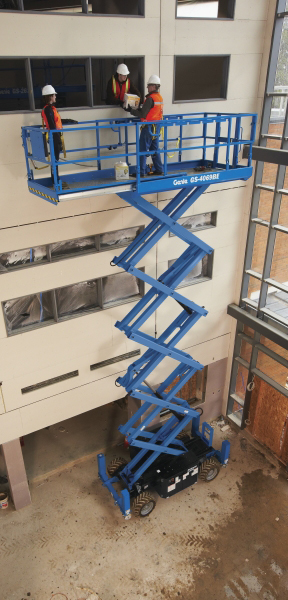 COME SEE IT AT THE UPCOMING HRIA CONVENTION IN ADELAIDE, 29-30 APRIL 2015.
This is the first rough terrain, high performance scissor lift with both electric and diesel power - which is where its BE name, for 'bi-energy', comes from.
This unique motive system enables the GS-69 BE Hybrid to, for example, commence work outside on a greenfield site using diesel power to recharge the batteries and power hand tools when no mains power is available, then move inside in DC electric mode, producing no emissions or engine noise, once the building is constructed.
The real benefit to operators of the Genie GS-69 BE scissor lift is the versatility and convenience the machine provides. It enables them to use just the one machine on a jobsite, both externally (under diesel) and internally (under rechargeable electric power). No longer do operators have to change machines when the job moves from outside to inside stages.
The great benefit therefore of the Genie GS-69 BE lift to hiring companies, is that the operator hires the machine for a longer duration, meaning greater revenues for the equipment hirer. With this machine, it's a case of it being the 'first on, last off' the jobsite.
From an operator functionality and productivity point of view, the GS-69BE scissors lift excels.
It offers:
A selection of 26, 33 and 40 ft platform height models
Lift capacities ranging from 363 kg to 680 kg
Tight 2.11 m inside turning circle, offering excellent manoeuvrability
Short wheelbase and good ground clearance, allowing outstanding ability to handle tough terrain
A 1.52 m extension deck, providing greater reach and a larger, more productive work area
Non-marking rough terrain tyres – meaning it is at home anywhere on site
The choice of operating in hybrid, or all-electric mode
On-board power generation in hybrid mode.
Peter Stephens, Genie Regional Sales Manager for WA and SA says, "The Genie GS-69 BE offers users great lift and capacity, versatility and ease of service. Depending on the model it can accommodate three or four workers on the platform, and its applications are wide – such as indoor/outdoor painting, overhead electrical work, plumbing, HVAC and data installation to mention a few. Operators will love it - and because of its hybrid power capabilities, will use it for longer. For this reason, hire companies will love it too."