Winter 2016

General Manager's Message - Winter 2016
Thursday 31 March 2016 @ 13:44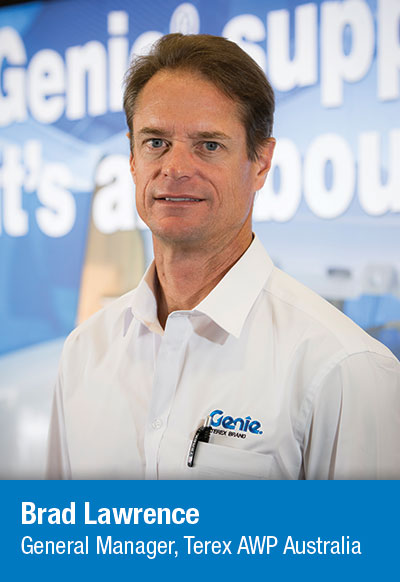 Welcome to another edition of Blue News, the magazine for Genie customers throughout Australia and New Zealand.
Three years ago, the taxi industry in Australia was dumb, fat and happy. No competition and strong barriers to entry meant that they could provide a very low level of service and charge whatever they wanted, and if you weren't happy you could always catch the bus! Fast forward to present day, and a taxi license is virtually worthless – Uber now owns the market. Industry disruption is not something new, but the speed by which Uber has transformed that market is quite staggering. It is a lesson to us all that we must be changing and evolving to survive in these uncertain times.
The rental industry is also in the sights of disrupter businesses. In the March Financial Review, there was an article about a recent startup call PlantMiner. Like the emergence of hotel, flight and insurance comparison and booking websites, PlantMiner has created an online marketplace for sourcing hire equipment for mining and construction sites. They may be small now, but they have just secured venture capital funding and have over 70 staff. Could be worth investigating!
This year, Genie turns 50 which is an amazing achievement, but it does not guarantee Genie will be around for another 50 years. If we want to remain successful in Australia, we need to change and evolve along with our customers. As part of our 3-year strategic vision of being a true "end to end" solutions provider, we are launching at the HRIA Convention "Genie 360 Support".
This new initiative involved all Genie team members in Australia and covers all areas of our business, including technical support and training, operator training, service and maintenance, parts and fleet replacement. We believe these areas of our business are critical to your success, and the reason why you buy Genie. We also understand that just because you bought Genie before, there is no guarantee you will buy again, and we need to be earning your business each and every day – that is exactly what we intend to do.
The question I most get asked when visiting customers is, "How does Genie make me more money?" Return On Investment (ROI) is what it is all about, and at this year's HRIA Convention we will be displaying two models which we believe attracts a superior rental rate. The Genie® Z™-33/18 boom lift and Genie® GS™- 4047 scissor lift are models that are proving very popular with our customers due to ROI. Please visit us on the stand, and we can answer any questions you may have about these exciting new products.
Happy reading, and as always, if you have any comments you can call me directly at 0408 884461 or email me at brad.lawrence@terex.com

Brad Lawrence
General Manager Terex AWP Australia