Winter 2016

GS-4047 Scissor Lift Proves its Worth in the Field for Uphire
Thursday 31 March 2016 @ 13:25
Proving to be a true all-rounder, the Genie GS-4047 scissor lift, which combines a small footprint with the ability to reach heights of close to 14 m, is proving popular with customers of Sydney rental firm Uphire.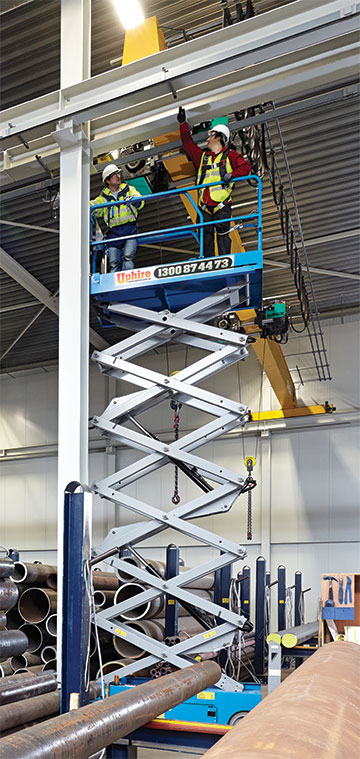 An electric scissor lift, the Genie GS-4047 provides a zero inside turning radius and a width of just 1.19 m, making it the perfect solution for clients who need to work in narrow or confined spaces.
With an impressive lift capacity of 250 kg, the Genie GS-4047 scissor lift can handle multiple projects from warehouse maintenance to construction sites.
Michael Spence, General Manager, Uphire, has acquired eight Genie GS-4047 scissor lifts and is confident that the product will prove an extremely valuable addition to the firm's fleet. "It really fills a gap in the market for a small footprint lift that can extend beyond 10 m in height," said Spence.
More significantly, the Genie GS-4047 scissor lift is proving a winner with the customers of Uphire. "Being a unique scissor lift in terms of capability, it's really been useful for us with a number of customers," said Spence. "It fits nicely in areas where a customer requires a lift that can handle a tight or confined space, such as racking in a warehouse.
Versatility is another area where the Genie GS-4047 scissor lift excels. "We've also found it useful in numerous construction scenarios," said Spence. "Given that the lift provides such a good height range it can be used at different stages of a build. Where in the past we may have needed to swap to another lift when the height requirements changed during a project, we can now service the customer with the Genie GS-4047 scissor lift alone. That's a real strength for us."
Brent Markwell, Genie Territory Sales Manager NSW/ACT, is excited by what he's seen with Uphire. "It's great to see Uphire strongly supporting this model. They had some real success with customers who need a machine that provides high access, narrow passageway support," said Markwell. "For Genie, the GS-4047 scissor lift provides a best in class solution that has a great market appeal. Its speed through all functions, stable platform and working height make the Genie GS-4047 scissor lift perfect for a wide range of applications".
Markwell also stated that " The added advantage to rental companies is the high ROI compared to similar height units in the market place when the narrow machine is all that is needed instead of the wide deck version in reaching 13.7 m".
Interested in the GS™-4047 scissors lift?