Autumn 2016

Hirepool continues partnership with Genie for 2016
Monday 18 January 2016 @ 09:13
Leading New Zealand general hire firm, Hirepool, has made a significant investment in its extensive access equipment fleet, with the purchase of 57 Genie® GS™-1932 scissor lifts and 32 Genie® GS™-3246 slab scissor lifts.
"Our customers have high expectations when it comes to safety, quality and productivity, and Genie is considered very highly in this regard in New Zealand and globally", said Matt McLaughlan, from Hirepool.
Matt stated that, "We want to keep our fleet modern, and ensure it is as consistent as possible across our 60 branches from a customer experience and staff training perspective.
"This significant order will augment our extensive existing Genie fleet that is already well regarded by hirers and our operations staff. The training our teams receive from Genie and Youngman Richardson & Co. goes a long way to ensuring this continues."
At the same time, Genie and its New Zealand distributor Youngman Richardson & Co. have kept up their end of the bargain with Hirepool. "They haven't delivered all the machines to us yet, but they are well ahead of schedule," said Matt. "This level of service is typical of the Genie customer experience and it's why we have no hesitation in working with them on a repeat basis.

---
Variety and ROI spice up sales of Genie® GS™-1932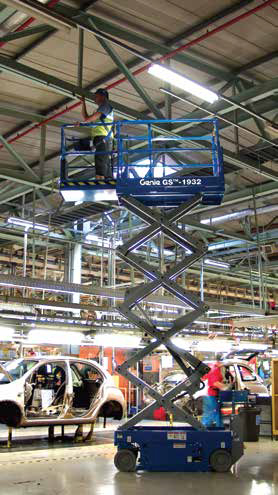 The Genie® GS™-1932 is proving a star turn with customers such as Hirepool, because it offers features that enable it to be used in a wide variety of situations. At the same time, the compact scissor lift also provides a great return on investment for any size business thanks to its affordability.
The Genie® GS™-1932 is exceptionally popular with businesses involved in repairing ceilings and mechanical ducting, as well as electrical contractors. The compact size of the Genie® GS™-1932 allows it to gain access to small areas, yet it still comes with great height access of 7.8 m. The zero turning radius also works to great effect in tight spots.
Other features of note, include a 227 kg lift capacity that enables the Genie® GS™- 1932 to convey two* workers and tools, the four 6 V 225 Ah batteries that keep it working for up to ten hours and its 25% gradeability for easy job site delivery.
The proportional lift and drive function that comes with Genie® GS™-1932 and other lifts such as the larger Genie® GS™- 3246, are also popular, as these features allow for greater control in tight areas where operators need to be mindful of the surroundings.
* Outdoor 2 persons - Indoor 1 person.