August 2013

Report On The Asia Pacific Region
Thursday 15 August 2013 @ 11:10
by Mike Davis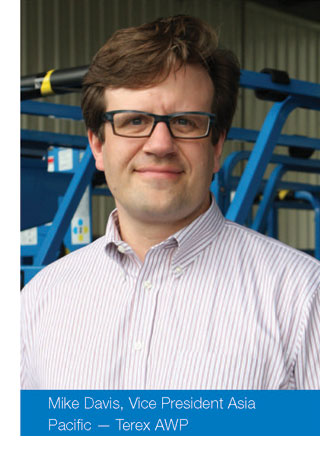 The highlight of the show for Genie was the unveiling of our newest product, the Genie® SX -180. The introduction of the new 180 foot boom, the world's tallest self-propelled boom, has enabled Genie to claim the position of industry leader, outreaching the Welcome to another edition of the Blue News, the magazine for Genie customers throughout Australia and New Zealand. The past six months has certainly been challenging times for everyone in our industry. The slowdown of mining construction and political uncertainty throughout all levels of government has impacted confidence levels. Whilst the reality of these difficult times is upon us in earnest, many customers are still very optimistic of the future. Based on that optimism, Genie Australia continues to invest in new products and in our value proposition so we can offer the best possible support to our customers during both the good and difficult times. nearest contenders by 30'. A steady stream of customers, media, and even competitors came through the Genie booth to see the awesome new Genie SX-180. This new model is expected to be available in the Australasian market early next year.
Recently, I visited the Northern Territory to meet our valued Genie customers. Operations in mining are expected to continue to grow, however the opportunity for future growth in Darwin is a dramatic expansion of liquid natural gas production. In addition, the US military has announced plans to station more troops in Darwin.
Both of these projects will need a lot of aerial lifts. I visited a number of customers who are preparing for the dramatic increase in work. Genie already enjoys a strong presence in the region and will be supporting the Northern Territory customers through this period of accelerated growth.
Finally, the annual Hire Rental Industry Association Convention in Sydney again proved to be a significant landmark event, not only for Genie but the industry as a whole. It was gratifying that the convention was so well attended and that so many of our valued Genie customers visited our display and participated in our annual Customer Appreciation Night – Vintage Havana. It was a fantastic night!