Autumn 2016

Mike Davis Report on the Asia Pacific Region - Autumn 2016
Monday 18 January 2016 @ 09:16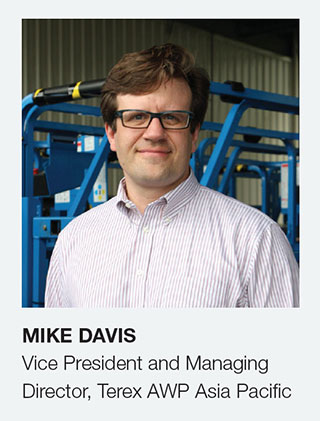 After 4 years, this will be my final column for Blue News. I'm relocating to Switzerland, where I've been appointed as Vice President, Terex Business System (TBS) – Terex Cranes..
In my place, Jim Barr is returning to the region as Vice President and General Manager, Asia Pacific – Terex AWP. Jim brings a significant 25 years of experience to the table, including his leadership of the Greater China commercial team since 2011. He's also well known in Australia for taking a leading role in the establishment of the Genie brand in this country. Jim has a tremendous knowledge of the aerial workplatform industry and I wish him well in his new role.
At Terex AWP, we take pride in our continuity of leadership. With Jim taking over the reins at Terex AWP in Asia Pacific, we believe that this change will continue to increases your confidence in the Genie brand – and the value you place on our ability to deliver industry best customer service.
Finally, I would like to thank you for your support and business during my time in this region, and the Genie team continues to look forward to supporting you in the AWP marketplace.