Spring 2016

Platform Sales Australia, the New Genie Aluminium Distributor in NSW and ACT
Friday 29 July 2016 @ 09:24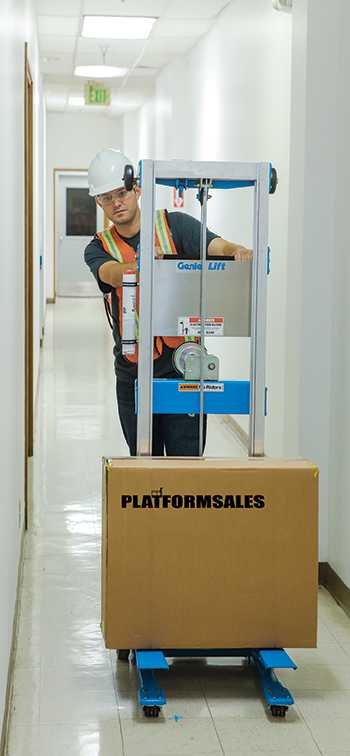 Genie Australia has announced Platform Sales Australia as its new distributor for its aluminium range in NSW and ACT, and the Sydney-based dealer will be well stocked.
Platform Sales Australia (PSA) is presenting the full range of material lifts and AWP access equipment manufactured by Genie. This includes the GLs, SLAs, SLCs duct lifts and even the company's iconic gas hoists, according to David Collins, Director of PSA.
Strong relationship
This latest linking with Genie rounds out the PSA narrative almost a decade after its inception by Collins and partner John Lyon. "We started Platform Sales because of Genie in 2006," said Collins. "We were approached to sell Genie products after we had grown our own reputation for importing specialised EWP products." As one of the first retail agencies to represent Genie in Sydney, NSW, it is fitting that the new alliance leaves PSA distributing the full range of aluminium products, thus cementing their long-standing relationship.
Best in the market
As far as Collins is concerned, Genie is a strong brand and the best in the market for material lifts and access equipment. "We don't associate ourselves with products purely to make a quick sale," he said. "It's about quality in this industry, and if you don't have a quality machine, you'll end up paying for it. If there are product problems or warranty issues, this creates complications for distributors such as us." In Collins' opinion, working with U.S. manufactured products is important as this ensures reliable, high caliber machines which PSA are confident in. "At the end of the day, you have to be happy with the products you are selling."
Collins conceded that there are Asian competitors in the material lifts space, however he wanted rental companies to expect flawed products, warranties and service levels. "I prefer products that resist downtime," he said. "This represents the bigger picture rather than saving a few dollars."
Brent Markwell, Regional Sales Manager NSW/ACT, is delighted Platform Sales has linked with Genie as an aluminium distributor. "David Collins and John Lyon have proven marketing strategy and are very highly placed when it comes to search engine enquiries," said Brent. "They are the perfect fit as our aluminium distributor in NSW and the ACT because they are very passionate about our products."
Moving forward it is clear the strong relationship that Genie and PSA have will continue to assist in providing businesses with highly reputable, quality machines across New South Wales and the Australian Capital Territory, and both manufacturer and distributor are looking forward to the future of their partnership.