Genie unveils world's tallest self-propelled boom at Bauma 2013
Friday 12 April 2013 @ 14:56
Genie unveils world's tallest self-propelled boom at Bauma 2013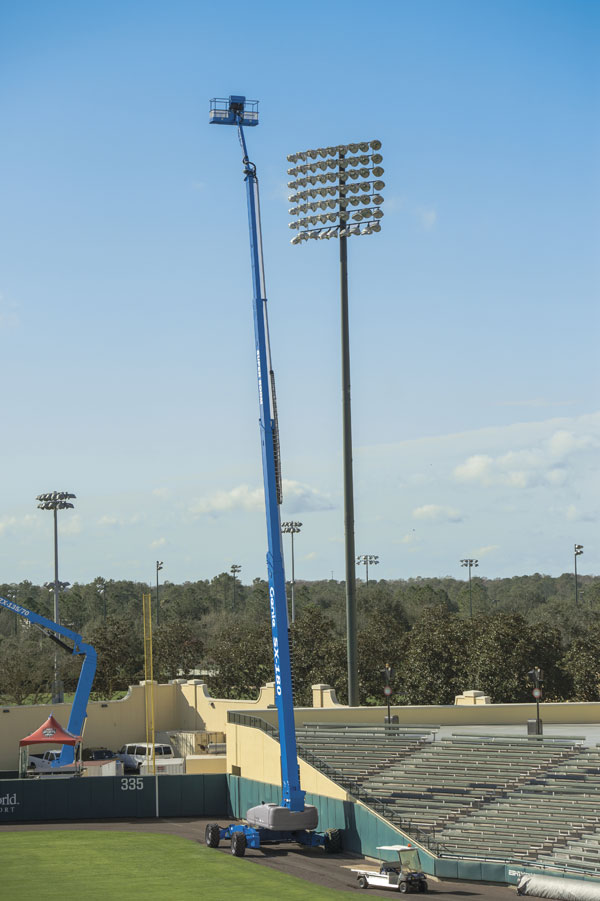 BRISBANE, AUSTRALIA (April 19, 2013) – Breaking through all industry records at 54.9m (180 ft), the revolutionary new Genie® SX-180 self-propelled telescopic boom lift was introduced this week at the Bauma 2013 tradeshow in Munich, Germany. The largest of its kind in the market, the boom lift is suited for applications in the oil and gas industries, commercial construction, industrial construction and maintenance, and general maintenance. The SX-180 may be seen publicly for the first time at the tradeshow.
The Genie SX-180 is designed to be productive, reliable and easy to transport. "Customers are always looking for new and innovative ways to carry out their work more efficiently and more effectively. In concert with customer input, our engineers have been able to reach new heights for this next generation of Genie telescopic boom lifts," said Scott Krieger, Senior Product Manager, Booms and Telehandlers, Terex Aerial Work Platforms (AWP). "We have pushed the limits of innovation in the aerial industry by successfully producing results beyond expectations."
According to Brad Lawrence, General Manager of Genie in Australia, the Genie SX-180 is a remarkable new product with particular relevance to the Australian market. "The SX-180 delivers a clear benefit to Genie customers," Brad Lawrence said.
"The landscape of the Australian AWP market may not be unique, but we do have a wide range of challenging height applications which will drive high demand for the SX-180. We are committed to servicing the specific height requirements of building maintenance, construction, telecommunications and mining with the Genie SX-180."
The Genie SX-180 is built to safely and quickly lift operators higher than any previously offered self-propelled boom lift. With a 54.9 meter (180 ft) vertical reach and 24.4 meter (80 ft) horizontal reach, the Genie SX-180 provides a working envelope ideal for the most extreme access jobs. The 2.44m (8 ft) by 0.91 m (3 ft) platform has an unrestricted capacity of 340 kg (750 lb). The 3.05 m (10 ft), 180 degree, rotating jib positions workers and gear exactly where they are needed.
The machine is designed to be driven at full height. Travel speeds vary based on boom position and range from 4.02 km/h (2.5 mph) with the boom in the stowed position, 0.65 km/h (0.4 mph) below 38.1 m (125 ft) and 0.17 km/hr (0.1 mph) above 38.1 m (125 ft).
The newly designed X-chassis extends and retracts to provide both stability on the job and a narrow profile for transport. The boom lift's stowed dimensions are 3.05m (10 ft) in height and 2.5 m (8 ft 2 in) wide. With a stowed length of 12.98 m (42 ft 7 in), the 24,494 kg (54,000 lbs) machine requires no over width or over height permits allowing it to be easily transported on a truck. "This X-chassis design is also used on our new Genie® ZX™-135 articulating boom introduced earlier this year," said Krieger. "This allows our big booms to share many design features providing parts and operating commonality."
The Genie SX-180 is designed with reliability and serviceability in mind. There is easy access to important systems and components, robust hose and harness routings and access to slew bearing bolts from topside. The rotating jib offers a robust slew bearing and worm drive arrangement.
New platform controls consist of toggle switches and fully proportional jib and boom controls. The ground controls offer an updated function diagram layout and tactile membrane switches. A 50 gallon fuel tank for longer run time and a 7.5 kW generator are standard equipment.
See video interview with Scott Krieger, senior product manager at Terex AWP about the launch of the Genie SX-180 telescopic boom at bauma 2013.
Worldwide availability will begin in the second half of 2013.
---
About Terex
Terex Corporation is a diversified global manufacturer of a broad range of equipment that is focused on delivering reliable, customer-driven solutions for many applications, including the construction, infrastructure, quarrying, mining, shipping, transportation, refining, energy, utility and manufacturing industries. Terex reports in five business segments: Aerial Work Platforms; Construction; Cranes; Material Handling & Port Solutions; and Materials Processing. Terex offers financial products and services to assist in the acquisition of equipment through Terex Financial Services. More information can be found at www.terex.com.
---
Contact Information:
Catherine Kerton
Marketing Manager
Genie Australia Pty Ltd
Phone: +61 7 3456 4420
Mobile +61 4844 3364
Email: catherine.kerton@terex.com