Genie announces the Australian release of its outstanding new Z™-62/40 articulating boom lift
Wednesday 04 March 2015 @ 00:00
BRISBANE (March 4, 2015) - Genie is pleased to announce the release of its new Z-62/40 articulating boom lift in Australia.
A compact and hardworking unit, it offers an outstanding working envelope, vertical and horizontal reach, manoeuvrability and servicing. In all of these areas, the new Genie Z-62/40 boom lift provides significant enhancements over the model it replaces, the Genie® Z™-60/34.
The new Genie Z-62/40 boom lift will be a highlight of the Hire and Rental Industry Association (HRIA) Convention in Adelaide from the 28th to 30th April, 2015.
Brent Markwell, Genie Territory Sales Manager NSW & ACT said: "Genie has completely re-envisioned the previous model boom lift to make the new Z-62/40 boom better fit customer needs in today's marketplace.
"We increased the height, outreach, transportability and key features while decreasing the overall weight of the product.
"This is sure to be a sought after machine with our customers in a wide range of industries, including construction, mining, petrochemical, telecommunications installation and maintenance. We look forward to making it available to them."
In designing and producing the new Genie Z-62/40 boom lift, the goal was to build on the strengths of the previous model, and enhance them, according to Markwell.
"It's an evolutionary process whereby the new model offers features and key product specifications that customers ask for and desire the most."
The Z-62/40 boom lift increases the working height from 20.39 m (66 ft 4 in) to 20.87 m (67 ft 11 in), compared to the old model. It provides more horizontal outreach with a maximum of 12.47 m (40 ft 11 in) compared to 11.05 m (36 ft 3 in) previously. The platform can also be lowered to 2.26 m (7 ft 5 in) below ground level.
This lift delivers excellent up-and-over clearance of 8.13 m (26 ft 8 in), and has a 1.52 m (5ft) jib with increased vertical rotation of 135 degrees, up from 90 degrees on the older model.
Markwell said: "The Genie Z-62/40 boom lift has a larger working envelope than its predecessor. This will help reduce rental companies' inventory costs, because previously they would have needed to buy a significantly larger and more expensive machine to achieve the extended reach and capabilities of this new model.
"Furthermore, all these benefits are enhanced by a machine that's compact and highly manoeuvrable. Weighing just 9,934 kg (21,900 lbs), it has zero tail swing, and minimal front turntable tail swing. Overall, the Genie Z-62/40 boom lift stows to the compact size of 7.58 m (24 ft and 10.5 in) with the jib tucked."
The unit has four wheel drive and full-time oscillating axles to maximize the terrainability even when elevated, and a tight turning circle. The inside turning radius has been reduced to just 2.36 m, down from 3.04 m on the old model. Four wheel steer is also an option, and in that mode the machine is even more manoeuvrable, as it can be 'crab steered' into the tightest position. In addition, the Z-62/40 boom lift has outstanding gradeability, being able to climb gradients of up to 45 degrees.
"Another great benefit for users of this machine, particularly in terms of ease of use and productivity, is its Genie Fast Mast™ boom system. With this, operators can descend and retrieve needed tools or materials and quickly return to working height. Also, the dual parallelogram lift linkage allows precise positioning of the platform on the jobsite for improved accuracy," said Markwell.
The Z-62/40 boom lift was designed with serviceability in mind and has enhanced access to electrical and hydraulic service points. A swing-out engine tray allows for easy access to either side of the engine assembly to quickly service the starter, exhaust or filters. This reduces service cost and down time to help maximize ROI.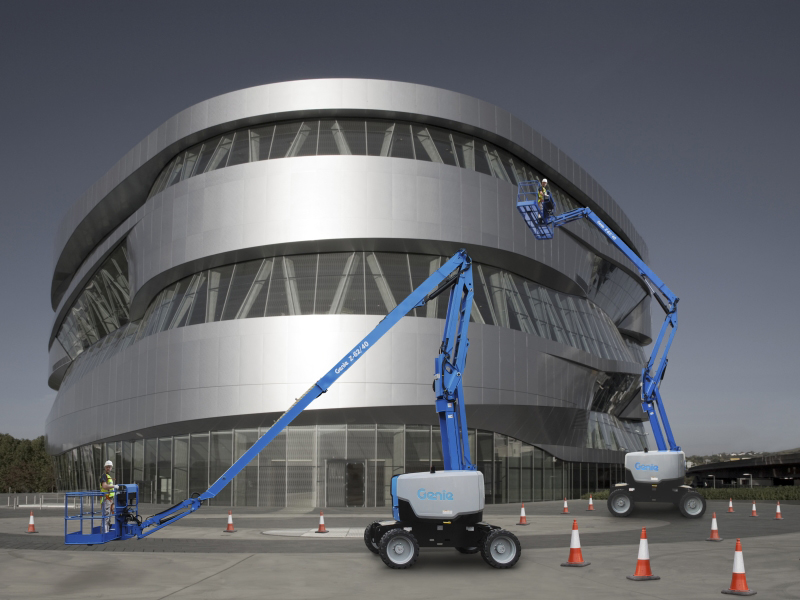 Media - For more information please contact:
Anthony O'Brien, Corpwrite Australia
Phone: 02 9460 9223/0411 578 818
Email: anthony@corpwrite.com.au