New Genie® Hybrid Scissor Lift series offers unmatched versatility and jobsite performance
Tuesday 16 December 2014 @ 00:00
BRISBANE (December 16, 2014) – Genie will showcase a new 69 inch wide bi-energy (BE) hybrid rough terrain, electric scissor lift series at the HRIA Convention in Adelaide, April 29-30, at Genie stand 46. The next evolution of the current Genie® 69 inch wide RT and DC scissor lift series, the new Genie GS -69 BE models offer exceptional jobsite versatility. They are the first rough terrain, high performance electric scissor lifts with an onboard integrated generator to charge the batteries and supply power to the platform and chassis. The new Genie® GS™-2669, GS-3369 and GS-4069 BE hybrid scissor lifts will be available in first quarter 2015 to the Australian and New Zealand market.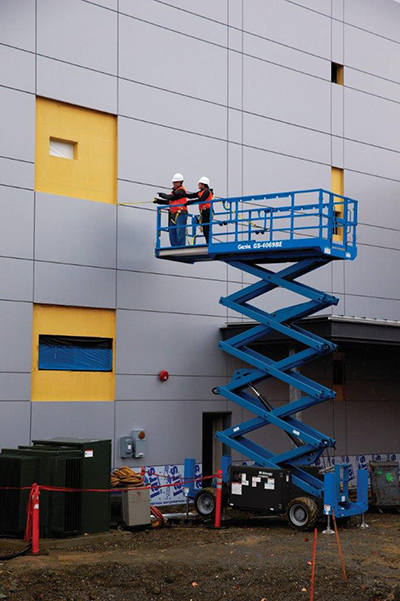 "The new Genie hybrid scissor lift is a best in-class series that provides users with a true 'start to finish' machine," said Brad Lawrence, General Manager, Terex Aerial Work Platforms (AWP). "In the early stages of construction, the scissor keeps itself charged and can supply 240 V AC power when onsite power is not available. As the jobsite progresses it can switch to hybrid or electric to meet rough terrain or indoor slab environments. This type of versatility ultimately leads to higher utilization for rental companies."
Height and Capacity
The new bi-energy hybrid scissor lift series is available in 7.70 m (26 ft), 9.75 m (33 ft) and 12.12 m (40 ft) models. All units provide the ability to drive at full height for jobsite efficiency and uptime. A 1.52 m (5 ft) slide out deck on all three models provides end users with plenty of room to accomplish what they set out to do. The simplified 3-4-5 link stack design provides commonality across the entire range to help simplify parts-stocking for fleet owners. The Genie GS-2669 BE hybrid scissor lift provides an unmatched lift capacity of 680 kg to provide end users with the ability to lift more with greater efficiency.
Jobsite Versatility
The Genie BE scissor lift series features two operating modes. This selectable feature meets the needs of both outdoor jobsites with no onsite power, and indoor jobsites with sensitive noise and emission environments.
When the power management hybrid operation is selected, the system automates the charging function of the integrated generator, maintaining the battery charge and allowing the operator to focus on getting the job done. All models are also equipped with an onboard charger for wall power charging. An optional feature supplies 240 V, 10A power from the integrated generator to the platform. End users can power additional tools from the scissor without needing onsite power.
Electric Rough Terrain Performance
The series' AC sealed electric drive motors provide full performance in both operating modes. "Compared to DC motors, these AC motors contain fewer parts and require zero maintenance due to a brushless design," said Lawrence. "They run cooler and cleaner which translates to longer life and high reliability for internal parts such as wiring, brakes and bearings."
A front active oscillating axle helps keep all four wheels on the ground during operation providing the end user with more machine control and power when climbing hills and jobsite obstacles.
Automatic levelling hydraulic outriggers save time. All four outriggers deploy simultaneously to ensure the lift is level on uneven ground before elevating the platform.
Non-marking foam-filled rough terrain tyres provide the versatility needed to start the job on rough terrain and finish on indoor slab surfaces.
Full swing out doors and trays provide excellent serviceability access to electronics, manifolds, hydraulics and batteries. A Genie SmartLink™ control system provides improved troubleshooting and easy updates.
---
Public Relations Contact:
Catherine Kerton
Phone: 07 3456 4444
Email: catherine.kerton@terex.com