New Genie® Z™-33/18 boom to lift efficiencies in airports, theatres and shopping centres
Friday 27 February 2015 @ 00:00
BRISBANE, Qld (February 27, 2015) - Genie is pleased to announce the release of its revolutionary Z-33/18 boom lift in Australia.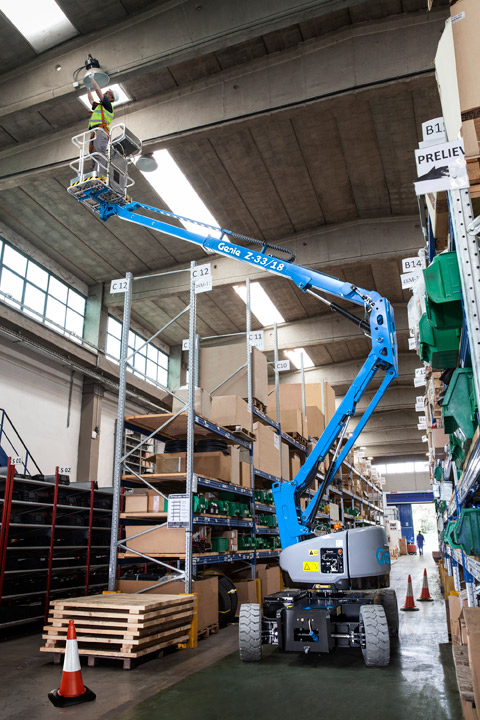 The Genie Z-33/18 is the first entirely new compact, lightweight electric Z-boom lift designed for both indoor and outdoor maintenance applications and it will be on show at, and a highlight of, the Hire and Rental Industry Association (HRIA) Convention in Adelaide from the 28th to 30th April, 2015.
"This new versatile articulating Genie® boom lift model is well-suited to applications on sensitive surfaces such as inside airports, shopping centres, theatres, even museums and galleries – in addition to routine outdoor maintenance tasks," said Kurt Kinder, Sales Manager QLD & PNG, Terex Aerial Work Platforms (AWP).
The Z-33 boom lift is also an excellent machine for the rapidly growing warehousing sector, according to Kinder. "
It is a completely new Genie® model designed to offer a great combination of features and 'up-and-over' lift capabilities combined with powerful drive motors. The Genie Z-33/18 boom lift will help increase efficiency on jobsites where space is tight," said Kinder.
The key features of the new boom lift include • Solid non-marking or multi-surface tyres, which makes it perfect for use on polished floors
AC drive transmission powered by a low-consumption battery
Tight inside turning radius with zero tail swing for excellent manoeuvrability
Ability to drive at maximum height
Plus the benefits of the Genie® FastMast™ boom system that shortens ground-to-top lifting time
48V DC 315 Ah battery power source leads to long lasting performance
The Genie Z-33/18 boom lift also features a compact 1.91 m (6 ft 3 in) wheelbase providing a gradeability of 30 percent, a working height of 11.84 m (38 ft 10 in), a horizontal reach of 5.56 m (18 ft, 3 in) and an up-and-over clearance of 4.34 m (14 ft 1 in). In addition to a 1.17 m (3 ft 10 in) wide by 0.76 m (2 ft 6 in) long platform, the platform supports weights of up to 199.6 kg (440 lbs).
"This unit is truly a new generation of Genie® boom lift that offers features and capabilities suited for customers in Australia," said Kinder.
"Its high efficiency and excellent manoeuvrability allow it to meet the needs of a variety of lightweight application job sites."
To make transport easier, this compact unit's boom stows down to only 1.50 m (4 ft 11 in) in width and 4.17 m (13 ft 8 in) in length. Drive speed is an efficient 5.95 kph (3.7 mph).
In addition to easily accessible machine components, the new Genie Z-33/18 boom lift features mechanical switches that are conveniently protected within the boom to avoid damage.
Kinder said, "Distinguishing the next generation of Genie® products from previous models, the new Z-33/18 boom lift also includes the new Genie product design to combine a fresh new look and feel with improved ergonomic design features."
This new Genie Z-33/18 articulating boom lift will be available in Australia in Quarter 3, 2015.
---
Media - For more information please contact:
Anthony O'Brien, Corpwrite Australia
Phone: 02 9460 9223/0411 578 818
Email: anthony@corpwrite.com.au