TAKING YOU HIGHER AT HRIA 2014
Genie wows Customers on the Gold Coast
The 2014 Genie Customer Appreciation night "Taking you Higher, 2014" proved to be the night of nights for the Australian and New Zealand Hire Industry. The once in a lifetime dinner was staged in the middle of the playing field at Metricon Stadium where Genie delivered a memorable night of glittering proportions.
The highlight of the function was the launch of the Genie SX-180. Fittingly the official Australian and New Zealand launch of the latest and tallest super boom in the Genie fleet, was conducted before the very people who make Genie great... our customers.
---
GENIE SX-180 - THE MOST POPULAR DEMONSTRATION AT THE SHOW
What better way to launch the colossal Genie SX-180, the tallest Genie self-propelled boom lift in the world, than by taking customers for a ride at Hire14.
Throughout the three day convention on the Gold Coast, Genie offered customers the opportunity to be lifted a full 180' above the ground in the Equipment in Action area. The offer proved irresistible to nearly 50 Genie customers who queued up for the breathtaking opportunity.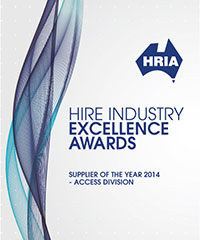 Genie Steals The Show at Hire14
Genie seemed to be the name that everyone at Hire14 kept hearing. Not only was the annual HRIA convention the first official launch of the Genie SX-180 to the broader Hire and Rental industry in Australia, but Genie was decorated with the HRIA "Supplier of the Year – Access Division" award for the first time. Genie was also awarded Best Exhibitor Stand – Outdoors.