Z™-33/18 - Specifications
Main Features:
Designed for both indoor and outdoor maintenance applications, the new electric Genie® Z™-33/18 lightweight boom lift is notably well-suited to tasks on sensitive surfaces where space is restricted. Aluminum man-basket.
Genie Fast Mast™ System
Non-marking solid tyres or multi-surfaces tires
Zero tailswing
Drive at maximum height
Gradeability 30% = 16.7°
AC electric drive system / low battery consumption
High steering angle
15.2 cm ground clearance centre
48 V DC (8x6V 350 Ah batteries)
2 wheel steering / 2 wheel drive
Measurements
Working height max.*: 12 m (38 ft 10 in)
Platform height max.: 10 m (32 ft 10 in)
Horizontal outreach max.: 5.57 m (18 ft 3 in)
Up and over clearance: 4.28 m (14 ft)
Height stowed: 1.98 m (6 ft 6 in)
Length stowed: 4.17 m (13 ft 8 in)
Width: 1.50 m (4 ft 11 in)
Ground clearance - center: 15 cm (5.9 in)
Productivity
Electro proportional controls
Self-levelling platform
AC power cord to platform
Lift Capacity: 200 kg (440 lbs)
Drive Speed (stowed): 6 km/h (3.7 mph)
Gradeability (stowed)**: 30%
Turntable rotation: 400° non-continuous
Turntable tailswing: zero
Turning radius (inside): 1.9 m (6 ft 3 in)
Occupied floor area: 3.70 sq.m
Occupied floor pressure: 9.81 kg/sq.m ***
Max tyre load: 4,335 Kg ***
Tyre contact pressure: 814 kPa (8.2 kg/ sq.cm)***
Power
48 V DC deep cycle battery pack
24 V DC auxiliary power Universal
30 Amp battery charger.
Weight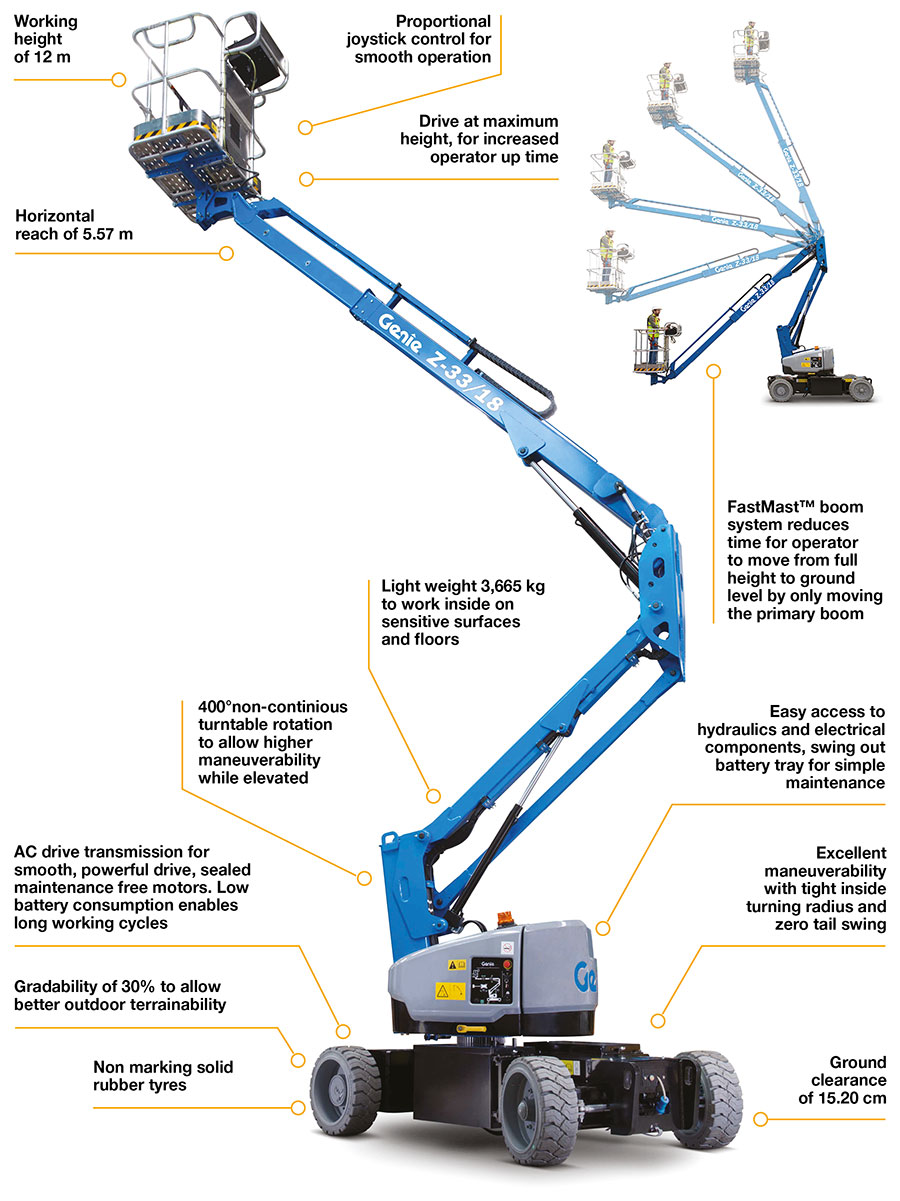 * Working height adds 2 m to platform height
** Gradeability applies to driving on slopes. Gradeability may vary depending on the weight of options installed on machine. See operator's manual for details regarding slope ratings.
*** Estimated data. Final floor load data will follow after start production.