Genie® Lift™
With three base models and many accessories to choose from, the Genie Lift (GL) is ideal for all your material handling needs.
The Genie Lift is well suited for lifting heavy material to or from shelves, installing and repairing HVAC components, lifting and moving automotive parts, shipping/receiving and other manufacturing applications.
Contact your local authorized Genie Material Lifts distributor on 1800 788 633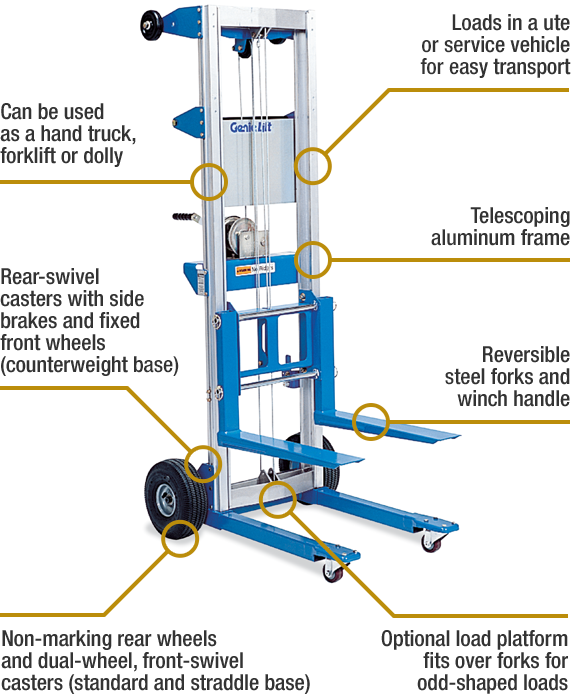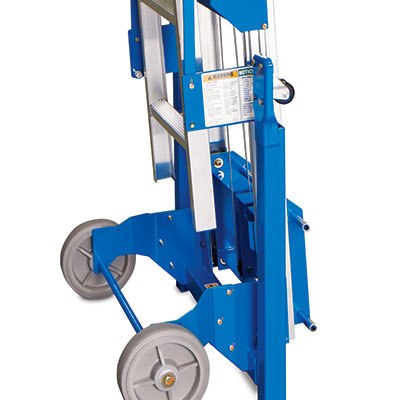 Compact, Maneuverable Design
The telescoping aluminum frame design makes the unit extremely compact. Plus, the durable steel forks can be reversed for greater flexibility. In addition, the winch handle is reversible, and a hold-down mechanism secures the carriage for easy transport and storage.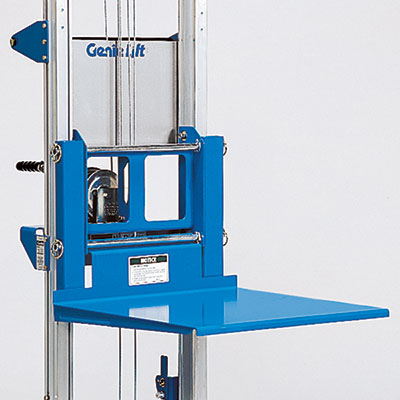 Platform for Load Handling
The optional load platform fits easily over forks to handle odd-shaped loads and can also be used as a portable work table.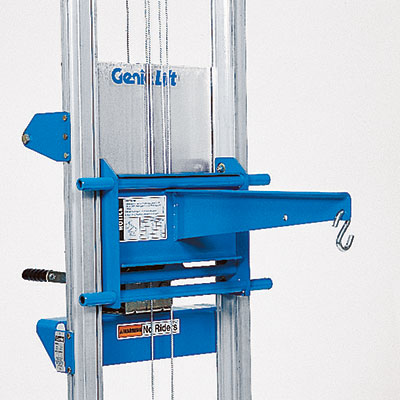 Boom for Added Versatility
The boom option turns your Genie Lift into a vertical crane or hoist capable of lifting up to 95 to 227 kg (500 lbs) with up to 51 cm (20 in) of reach.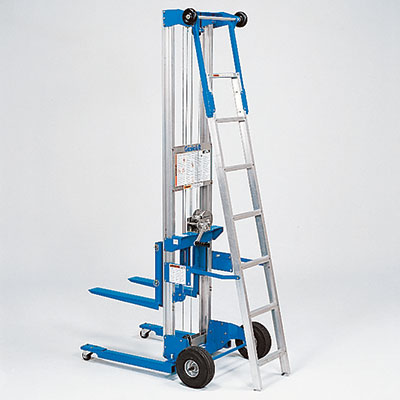 Ladder for Increased Access
Attaching the sturdy aluminum ladder accessory makes your Genie Lift a combination lift truck and stepladder for increased access to lifting and installation tasks. (Available on standard and straddle base models). The standard winch can be used while the ladder is in use or stowed.
Wheels and Casters
20 cm (8 in) non-marking rear wheels and 5 cm (2 in), front-swivel casters are standard on the standard and straddle base models. 12 cm (5 in) rear-swivel casters with side brakes and fixed 10 cm (4 in) front wheels are standard on the counterweight base model. Optional pneumatic rear tyres and foot-release brake available (standard and straddle base only).