SCISSOR LIFT
GS™-4047
---
Experience great return on investment
The GS™-4047 full drive-height electric scissor lift, with a working height of almost 14 m and width of just 1.19 m, is suited to narrow spaces with high ceilings, such as industrial applications, while also offering big performance. With a 25% gradeability, up to 8 hour of battery life and lift capacity of up to 350 kg (770 lbs) it is an excellent edition to any rental fleet or maintenance operation.
The new GS-4047 scissor lift will provide operator confidence and capability while working at full height, with a solid, durable construction and zero inside turning radius.
SPECIFICATIONS FEATURES GET A QUOTE

*Video depicts ANSI model GS-4047 scissor lift with platform capacity of 550 lbs (249 kg). Note that Australian model has platform capacity of 770 lbs (350 kg). Refer to Product Specifications for further information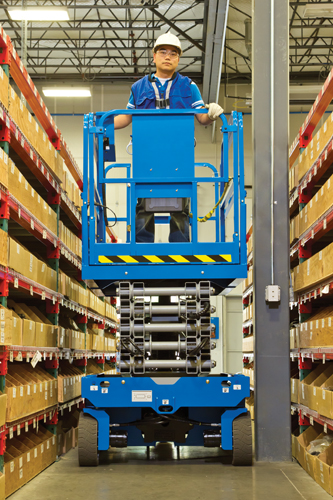 Jobsite Performance
The responsive four-wheel braking system of the GS-4047 scissor lift and its rigidity will help increase operator confidence when working at full height from a 3-person platform. Dual front-wheel drive and zero inside turning radius, combined with a compact footprint of just 2.44 m (8 ft) long and 1.19 m (3 ft 11 in) wide stowed, makes the GS-4047 scissor lift ideal for manoeuvring around tight restrictive work environments. A 91 cm (3 ft) extension deck allows workers and tools to utilize the maximum amount of platform space.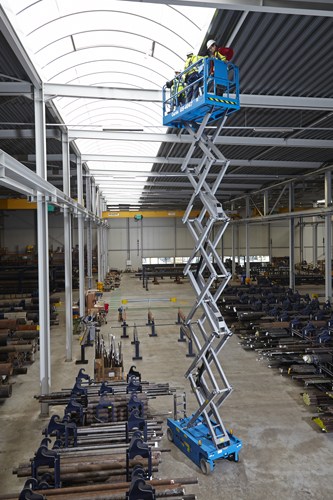 Simple to Service and Operate
The GS-4047 scissor lift incorporates the SmartLink™ control system which allows for improved troubleshooting with new grouped fault codes, easier battery charge detection and user-friendly machine adjustments. Other maintenance features of the GS-4047 scissor lift include hoses and wires that are accessible without the need to stretch the stack and slide-out battery trays.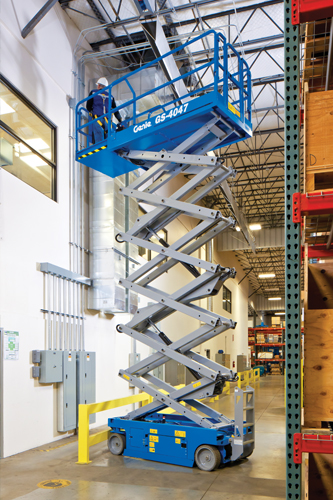 Top Applications
Racking of 12.2 m (40') in height and aisle widths under 1.52 m (5') are now commonplace, with facility managers attempting to achieve the best combination of space utilization and productivity, the GS-4047 scissor lift is at home in these applications. Other applications include:
Industrial construction – new 40 foot tilt up and refits
Warehouse and manufacturing maintenance and stocking
General maintenance and upkeep
Indoor painting and cleaning