THE NEW GS™-69 BE SCISSOR LIFT
FIRST ON, LAST OFF
The Genie Bi-Energy 69 models are the next evolution of the current Genie 69 RT and DC scissor lift series. Offering exceptional jobsite versatility, they are high performance electric scissor lifts with an onboard integrated generator to charge the batteries and supply power to the platform and chassis. They are equipped with an active front oscillating axle to improve terrainability.
FEATURES SPECIFICATIONS GET A QUOTE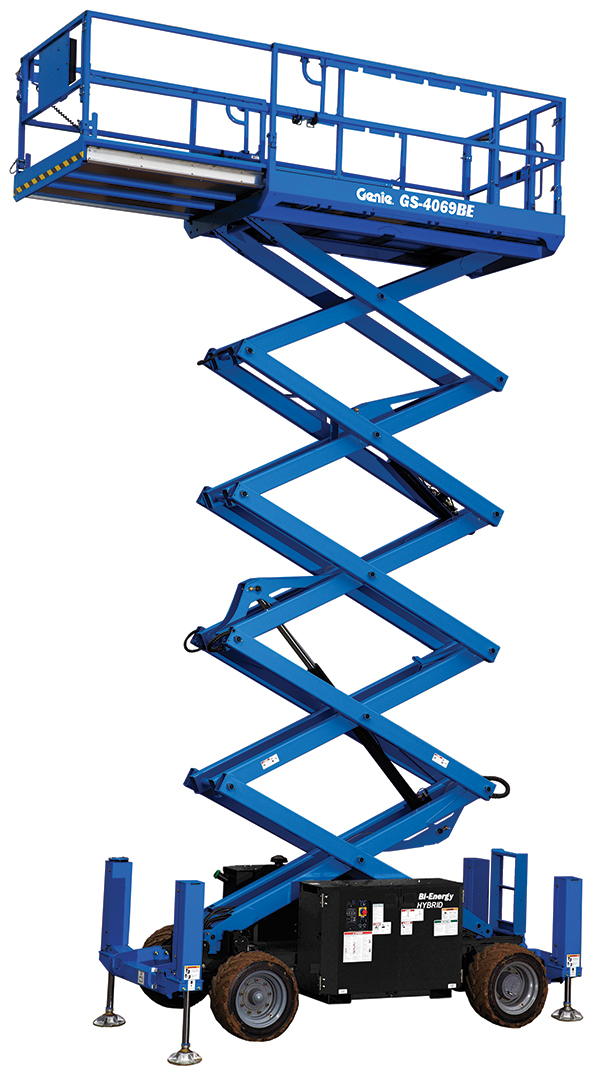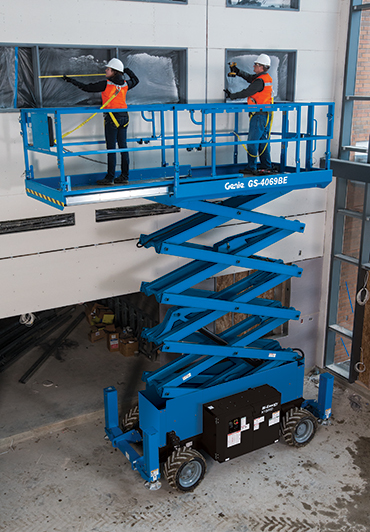 EXCEPTIONAL JOBSITE PERFORMANCE
"The new Genie BE hybrid scissor lift is a best in-class series that provides users with a true 'start to finish' machine" said Peter Stephens, Regional Sales Manager, WA & SA. "In the early stages of construction, the scissor keeps itself charged and can supply full AC power when onsite power is not available. As the jobsite progresses, it can switch to hybrid or electric to meet rough terrain or indoor slab environments. This type of versatility ultimately leads to higher utilization for rental companies."
The series' AC sealed electric drive motors provide full performance in both operating modes. "Compared to DC motors, these AC motors contain fewer parts, lower maintenance due to a brushless design" said Peter. "They run cooler and cleaner which translates to longer life and high reliability for internal parts such as wiring, brakes and bearings."
HEIGHT AND CAPACITY
The new bi-energy hybrid scissor lift series is available in 9.70 m (31 ft 9 in), 11.75 m (38 ft 6 in) and 14.12 m (46 ft 3 in) working heights. All units provide the ability to drive at full height for jobsite efficiency and uptime. Non-marking, foamfilled rough terrain tyres provide the versatility needed to start the job on rough terrain and finish on indoor slab surfaces. An active front oscillating axle helps keep all four wheels on the ground during operation providing the operator with more machine control and power. It automatically senses the terrain and adjusts the axle position based on ground conditions, regardless of whether the scissor is elevated.
A 1.52 m (5 ft) slide out deck on all three models provides plenty of room to get the job done. Indoor, these new models permit to 4 operators and their tools (3 person platform occupancy for the GS-4069 BE) to accomplish what they set out to do. The Genie GS-2669 BE lift provides an unmatched lift capacity of 680 kg (1500 lbs) to provide operators with the ability to lift more with greater efficiency, hydraulics and batteries.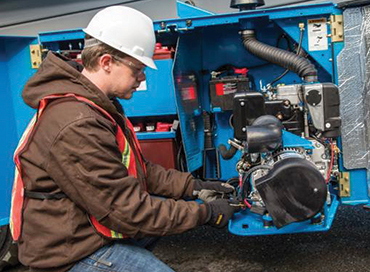 EASY TO SERVICE
The simplified 3-4-5 link stack design provides commonality across the range to help simplify parts-stocking for fleet owners. Full swing out doors and trays provide excellent serviceability access to electronics, manifolds, hydraulics and batteries. A Genie Smart Link control system provides troubleshooting and easy aftermarket updates.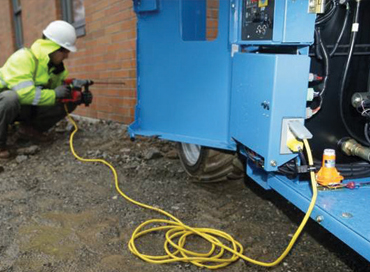 ELECTRIC PERFORMANCE
All models are also equipped with an onboard charger for wall power charging. A standard feature supplies 240 V, 2.1 kW power from the integrated generator to the platform and chassis. An operator can power additional tools from the scissor without needing onsite power.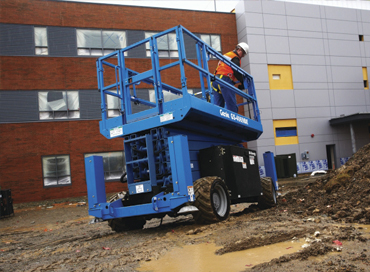 JOBSITE VERSATILITY
The BE scissor lift series features two operating modes. This selectable feature meets the needs of both outdoor jobsites with no onsite power, and indoor jobsites with sensitive noise and emission environments. Start on jobsites outside in moderate rough terrain and no available power; finish inside and switch to all-electric, no emissions or noise.