THE NEW GTH™-4018
HIGH CAPACITY TELEHANDLER
NEXT GENERATION TELEHANDLERS
More than ever before, construction sector professionals expect telehandlers to be reliable, durable and versatile. Likewise, rental companies also need to ensure that the machines they own provide good returns and offer the right combination of compact and high reach performance to cover their customers' requirements.
This is why the Genie team has mobilised its resources to develop a range of new telehandlers, the compact Genie® GTH™-2506, the Genie® GTH™-4014 and the high reach Genie® GTH™-4018. "Each model offers the high quality and productivity that customers expect from Genie equipment to support their needs in the construction, waste handling, recycling, industrial and logistics sectors.
The Genie GTH-2506, Genie GTH-4014 and the Genie GTH-4018 telehandlers have undergone stringent testing, day after day for hundreds of hours - the equivalent of 10 years' operation in the jobsite environment. Today, the result is a range of completely redesigned machines featuring updated engines, enhanced performance, improved serviceability, more interchangeable components and accessories, and enhanced styling.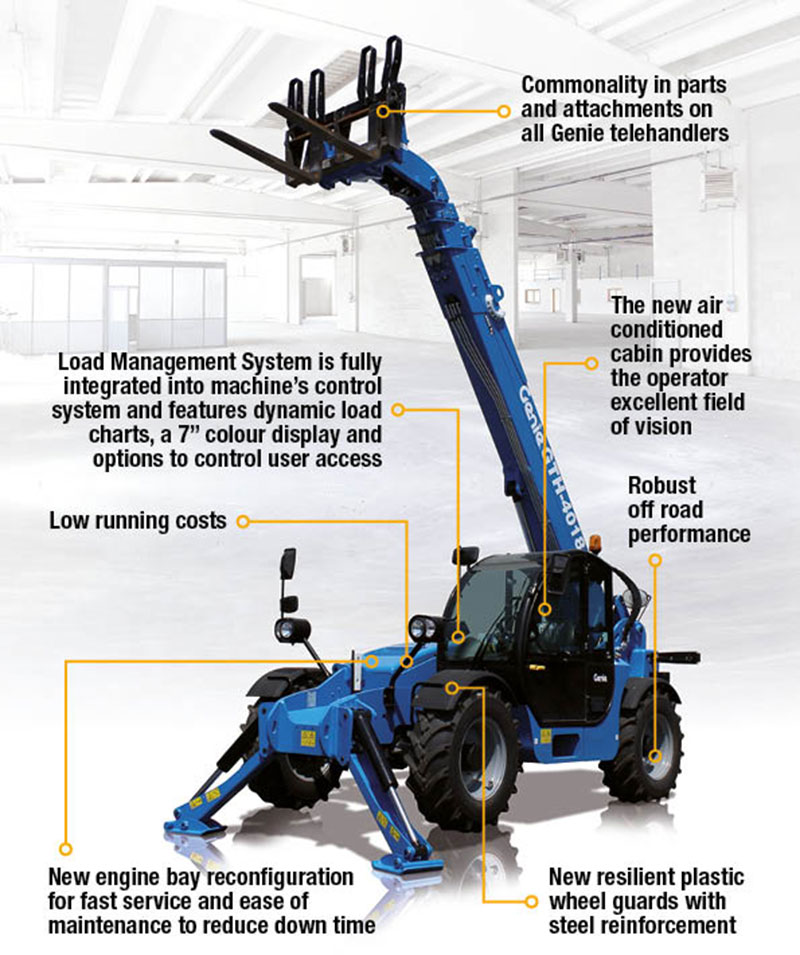 LOAD MANAGEMENT SYSTEM (LMS)
The LMS in the latest Genie GTH?4014 telehandler is more sophisticated than previous models and it has been fully integrated into the machine's control system. It provides the operator with more information via a dynamic load chart which is presented on a 7 inch colour display. The LMS also includes a reversing camera, optional forward/side camera and optional operator access controls that can be setup to restrict which attachments each operator can select. The LMS can be configured for full operator access or restricted access via a 4-digit PIN code or a unique electronic key.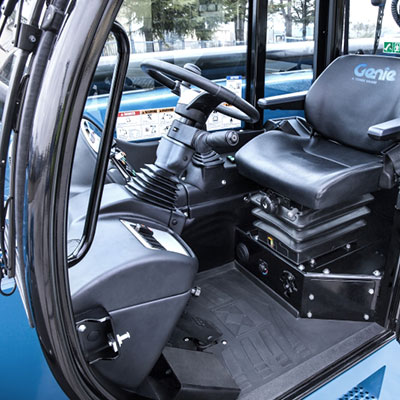 REDESIGNED
CABIN
The cab has been redesigned to include an air suspension operator seat, improved joystick ergonomics, a tinted top view front window, a large glove box, a manual holder inside the door, plus an integral air conditioning system to optimise operator comfort. The Genie GTH?4014 telehandler offers a more pleasant working environment and the electronic controlled engine and improved hydraulics combine to create more responsive controls. Focusing on jobsite safety, excellent visibility from inside the cab provides operators with the wide field of vision they need.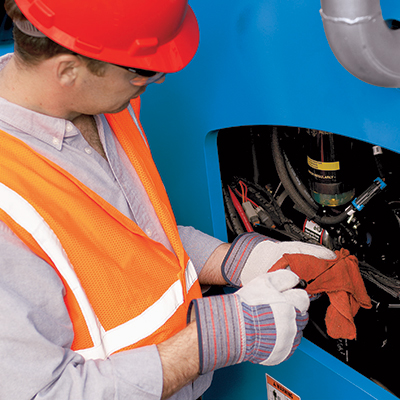 SERVICE AND MAINTENANCE
The maintenance of the Genie GTH-2506 telehandler has been improved too. The valve bank, the fuel tank, the radiator, filters and greasing points are easy to get to. Even the engine covers are designed to open at just the right angle and the engine tray is easy to remove.
Ease of maintenance equates to cost of ownership which we at Genie take serious when designing equipment. Down time when routine maintenance is being carried out is kept to a minimum so you can get back to work.
NEW EMISSIONS STANDARDS
New Stage IIIB engines
With the introduction of the current emission standards Stage IIIB in Europe and Tier 4 Interim in the USA, limits for nitrogen oxides (NOX), hydrocarbons (HC) and particles (PM) have been considerably reduced once again. Thanks to Deutz DVERT,sup>®, our engines are also capable of fulfilling all legal requirements and even providing a better performance at the same time in most cases
OTHER IMPROVEMENTS
Other improvements include upgraded load chart parameters, increased manoeuvrability and enhanced drivability over rough terrain. Among other outstanding design features, the axles of the Genie GTH?4014 telehandlers are notably equipped with dual disc brakes to combine the advantages of increased braking power with the durability required to operate for long hours in rough jobsite conditions.
The hydrostatic transmission and the new gearbox offer the benefits of high torque and high traction speeds. On the jobsite, their long reach, class-leading outside turning radius, overall machine width and excellent drivability, provide operators the ability to work more productively when performing construction tasks up to five or six floors high, or tasks such as masonry in congested and confined spaces.